Salsa is a phenomenally old dish. Its roots can be traced all the way back to the Mayans, and those guys were lording it over the Gulf of Mexico 2,000 years before the birth of Christ. The Aztecs and the Incas (1420s onward) were also recorded for mixing tomatoes with chills and burning their ringpieces out the next morning.
In the 1500s, the Spanish conquistadors started to rape their way around Mexico and South America, and it is by this route that Europe eventually inherited the tomato. The European tomato spent many years languishing in the category of 'probably poisonous,' before some bright spark realised that it reacted with the pewter tableware of the day and that that was the cause of so much convenient aristocratic mortality. Once earthenware and china was in use, the deaths stopped, and the tomato was accepted occidentally.
This recipe for tomato and red onion salsa is lightly adapted from that of Delia Smith who included it in her book Delia's Summer Collection as 'Mexican tomato salsa.' We initially hesitated to call this dish 'Mexican' without prior verification – Ms Smith has something of a habit of completely mangling traditional classics. However, with a bit of nodding around, we have discover that this salsa is actually a completely genuine pico de gallo ('rooster's beak'). Pico de gallo is sometimes called 'salsa bandera' on account of the colours of the Mexican flag.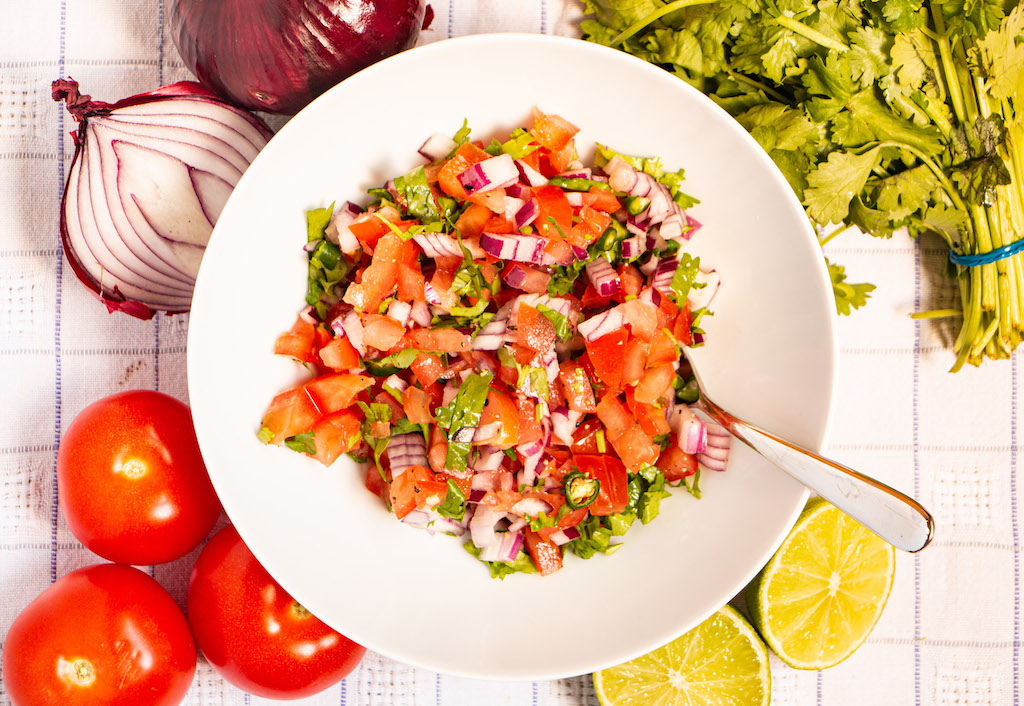 Print Recipe
Ingredients
4 large firm tomatoes, deseeded diced

1 fresh green chilli, chopped (use 2 finger chillis and leave the seeds in if you like it hot)

Half a red onion, finely chopped (see notes)

2 tbsp chopped fresh coriander

Juice of 1 lime

Sea salt and freshly ground black pepper
Notes
This dish is equally successful with chopped spring onions.