The Basque separatist movement Euskadi Ta Askatasuna (ETA) established a permanent ceasefire of terrorist activities in 2010. This was the current culmination of centuries of political and monarchical upset. Up until about 1500, the area of the northern Pyrenees identified today as the Basque country was in and out of French, Spanish and English hands like a game of pass the parcel.
The Basque people routinely pledged allegiance to whomever was not their current king, to the point whereby outright Basque nationalism was prevalent by the early 1900s. On the Spanish side of the border, a partially self-governing enclave was established, while on the French side, nothing much was going on, and the federal government remained solidly in charge. Sporadic violence was characteristic of 20th Century Basque politics, before things settled down in 2010. Once of the many things left behind by centuries of unrest was a cuisine that straddles the Spanish/French border and borrows from both countries, much like the food of Alsace.
The food of the Basque region is characterised by plentiful vegetables, fish and cider. Among the Basque dishes exported all over France and Spain, the piperade is a family classic. It is a simple preparation of peppers ('piper'), tomatoes and scrambled eggs that is often served as a simple lunch. So simple is the piperade that Britains Keith Floyd came in for a severe tongue lashing when he tried to make a little more of it for his TV show Floyd On France: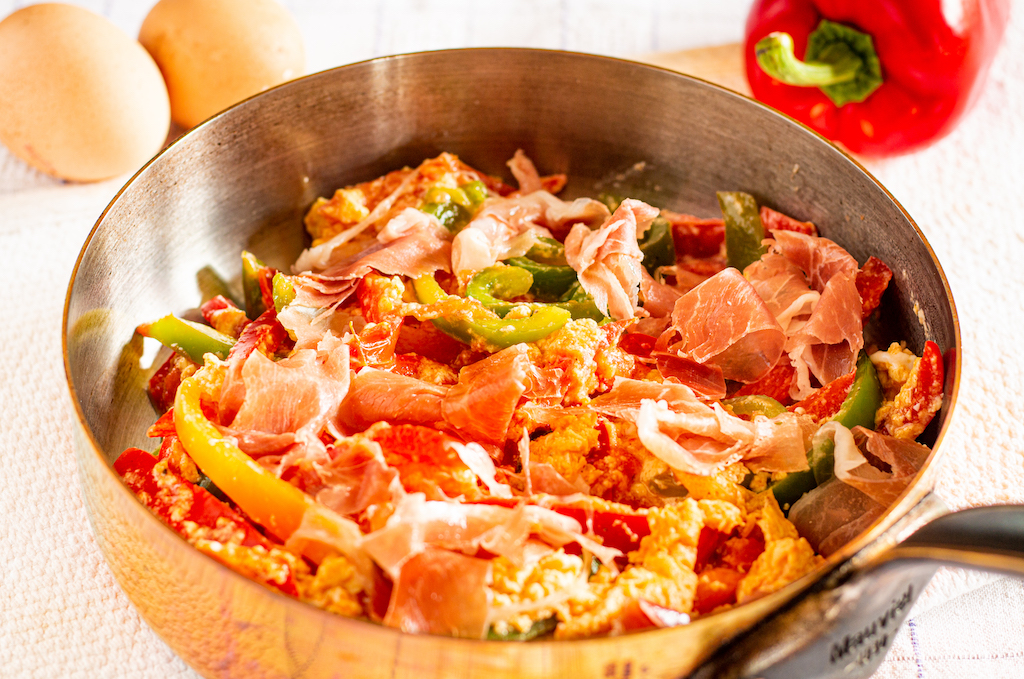 Print Recipe
Ingredients
4 tbsp olive oil

1 green bell pepper, seeded and sliced

2 red bell pepper, seeded and sliced

4 fresh tomatoes, peeled, seeded and cut into eighths

3 eggs, beaten

3–4 thin slices of Bayonne ham (optional; Parma ham will substitute)

Plenty of freshly ground black pepper and sea salt
Instructions
1
Heat the olive oil in a sauté pan. Cook the peppers and tomatoes in the oil with plenty, plenty seasoning for about 20–30 mins until nicely softened.
2
Bring the heat right down and add the eggs, Scramble the eggs in with the vegetables until cooked how you like your eggs.
3
Serve with the ham as a garnish, or quickly mix it through (don't try cooking it off).
Notes
Onions are frequently used in the preparation of a piperade, and ought to be cooked first if using. The white onion is said to counterpoint the red tomatoes and green pepper to echo the colours of the Basque flag.