I am sure than many of us have dug out a recipe, cooked it, tasted it, and wondered "Where has this been all my life?" I have experienced countless instances of this, and this pigeon dish is the latest iteration.
In terms of origin, we cannot tell where pigeons in a vinegar sauce with a spiced mash comes from, but we do know where it has ended up. Chef Brian Turner CBE promotes a recipe that is not entirely dissimilar. The shallot vinegar turns up poured over fresh oysters.
The recipe given here is from Larousse where is is hanging out unnoticed among a small series of simple pigeon dishes. We really recommend you try this.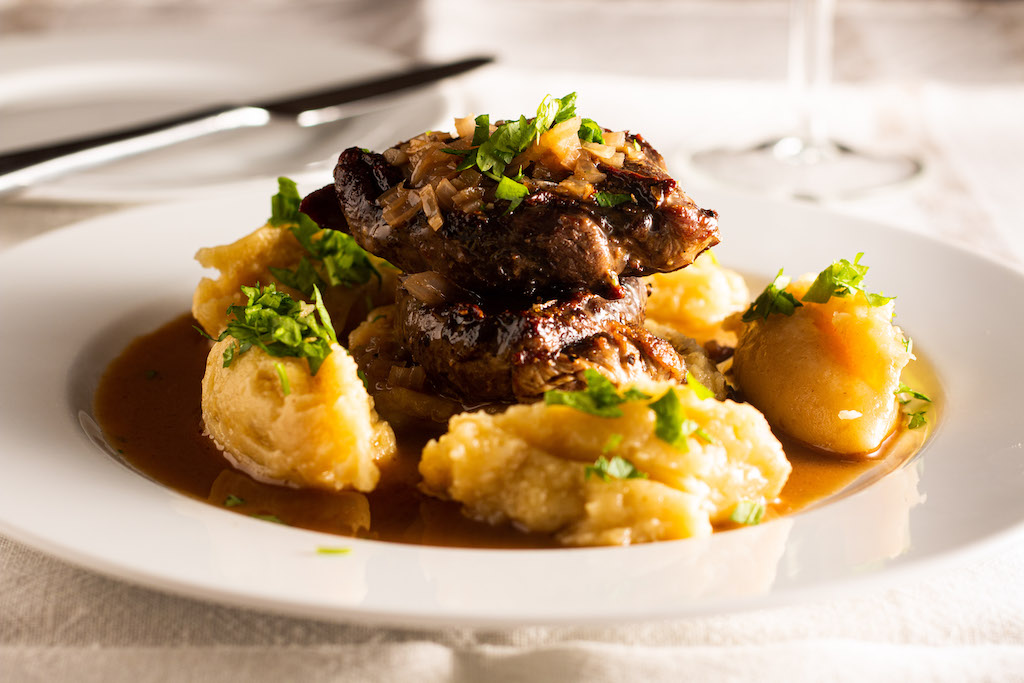 Print Recipe
Pigeons au vinaigre d'échalote
Ingredients
For the birds:

2 pigeons

1 tbsp olive oil

For the stock:

1 carrot, sliced

2 onions, sliced

1 bouquet garni

150ml white wine

For the shallot vinegar:

1 banana shallot, finely chopped

75ml red wine vinegar

Sugar to taste

To finish the sauce:

50g unsalted butter

For the potatoes:

200g floury potatoes

100g unsalted butter, cubed

2 tsp ground cumin

Sea salt and freshly ground black pepper

Parsley, chopped to serve.
Instructions
1
Remove the wishbones, legs and wings from the pigeons and carve off the breasts. Set the breasts aside. Put the carcass, legs and wings in a pot with the rest of the stock ingredients and season. Cover with water and simmer for 30 mins. Once the stock is well flavoured, strain it into another pan and reduce to one half or one third (depending on water volume) until it just coats a spoon. Keep warm.
2
Prepare the shallot vinegar by mixing all the ingredients in a small jug.
3
Meanwhile, prepare the potatoes by boiling them in their skins until soft. Cool a little and peel. Mash the potatoes with a fork and add the butter and cumin. Season to taste. Keep warm.
4
To cook the pigeons, heat the oil in a small sauté pan, season the meat and fry it until just done, turning occasionally (about 5–6 mins). Remove the meat to a plate to rest.
5
To finish the sauce, deglaze the pan with the shallot vinegar and pour in the reduced stock. Let this bubble a bit to combine the flavours and reduce a shade more. Once the sauce is coating a spoon once more, add the butter and whisk in to make a smooth, glossy, slightly thickened sauce.
6
To serve, shape the mashed potato into quenelles and arrange around the plate. Put a bit of potato on the middle and stack on top with two pigeon breasts per person. Pour the sauce over the meat and garnish everything with freshly chopped parsley.