Devilled kidneys are a British gastronomic outlier. Anyone who has read Homer will know that Odysseus et al had a peculiar way of portioning meat. They would cut an animal up, burn the best bits on an altar for the Gods, and then eat the rest, using animal oils to make their hairless bodies look sexually awesome.
In the Middle Ages, when being godly was more about amassing gold in the name of Christ, the clergy were supremely rich from the proceeds of their global, medieval ponzi scheme. For them, and the nobility who sponsored them, it was only the best, prime cuts of lamb and beef. Everyone else was eating the scrag and offal.
However, in the 18th Century, someone hit on the idea of cooking interesting, spicy kidneys, and these found their way on to the breakfast tables of the landed gentry. The Victorians, who were the most insufferable social spiralists in all of history, took this to mean that every gentleman worth his napkin ought to be eating devilled kidneys. Devilled kidneys became a staple of London gentlemen's clubs, and later a favourite of rationed wartime families. However, after the war, devilled kidneys were erased from menus, and everyone became squeamish about eating organs now they no longer needed to eat them to survive the Nazi blockades.
Recently, Britain's top chefs have tried and failed to get people excited about devilled kidneys again, and this is a great shame because they really are lovely, and they are low-fat too.
There is no fixed recipe for devilled kidneys other than that they are spicy. Some recipes just use pepper. Many use cayenne pepper for extra heat. Most have mustard. However, for a really nice iteration of devilled kidneys, we can look to Arthur Potts-Dawson (Waterside, River Cafe, Fifteen), who did a cooking segment on the 2001 TV series Market Kitchen, filmed at London's famous Borough Market. In this recipe, the spiced kidneys are finished off with a frequently seen cream sauce, but with an added splash of whisky for a bit of appropriate Edwardian luxury.
You can watch Potts-Dawson making the dish here: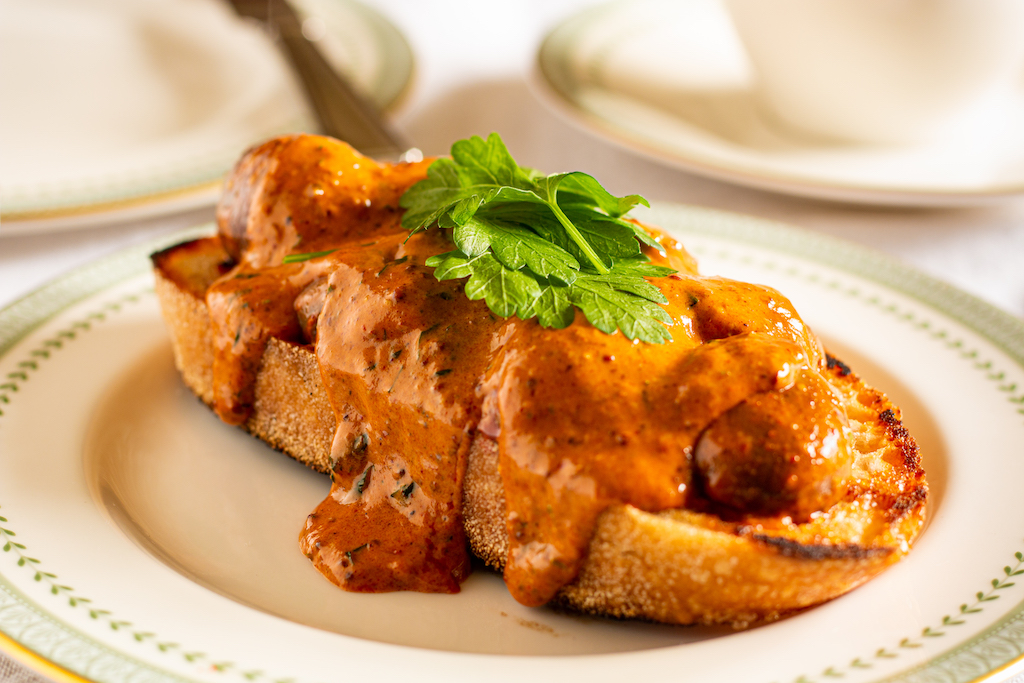 Print Recipe
Ingredients
2 thick slices of toast

2 tbsp oil

4 lamb kidneys

1 tbsp paprika

1–2 tbsp wholegrain mustard

25ml Scotch whisky

3 tbsp double cream

1 tbsp fresh parsley, chopped

Sea salt and freshly ground black pepper (use Cayenne if you like these spicer)
Instructions
1
Halve the kidneys, trim out the renal pelvis (white bit at the waist of the organ), and halve them again.
2
Heat the oil in a frying pan, add the kidneys, fry them a little and season.
3
Add the paprika, mustard and more pepper and sauté.
4
Add the whisky and flambé. Cook the kidneys until the redness is just gone (about 4 mins). Add the cream and coat the kidneys. Reduce the sauce a little until it is thick but definitely not sticky (about 1 min). Check seasoning.
5
Add the parsley, mix, and turn the kidneys out onto the toasts.
Notes
You can make the toast simply ahead of time by just frying it in the same pan you use for the kidneys.