The omelettes we enjoy today are a derivative of a very old method of cooking eggs. Le Ménagier de Paris, which is a guide for house keepers covering everything from cooking to shagging, was published in 1393, and includes mention of an 'alumete.' The fully formed term 'omelette' occurs in Cuisine Bourgoise in 1784.
In the arena of French omelettes, there are essentially two styles. The first of these is the 'country' omelette, known by French cooks as an 'omelette de pays.' If you make omelettes at home, this is probably the style you are making. Beaten eggs are poured into a small frying pan with hot butter. The omelette is cooked on one side, drawing back the edges and moving the uncooked egg around until just set. The omelette is then seasoned, any fillings are added, and it is folded once in the pan and once again to the plate. The finished product has some browning.
However, there is another, lesser-known beast, and it is by far the superior product – this is the so-called 'classic French omelette,' and it is a proper sod to get right. In this version, beaten eggs are whisked briskly in hot butter using the devil's combination of a metal fork and a Teflon pan. When the mess is not quite set, but will be in about 5 seconds, fold over a third of the omelette, slide or tap the other third up the edge of the pan and fold that over, pressing with the fork. Tip it over onto the plate. There is no browning whatsoever, and the centre is still creamy.
The inspiration for having a go at a classic French omelette came from watching Jacques Pepin do it on an old cooking show (see clip below). Even with that video to go off, there is more to this egg dish than meets the eye. Pan size is critical, and thankfully Alex French Guy Cooking has analysed the classic French omelette using actual science and has produced an Excel table of egg number and pan sizes. However, trust me when I say that the sweet spot is four eggs in an 24cm pan.
Having watched both Alex and Jacques do this omelette, I was still four dead losses in when I remembered that chef David Kinch of the triple Michelin-starred Manresa in Los Gatos, California, had also made one on the US TV series Mind of a Chef. His method has all the authenticity of a classic French Omelette, but it employs a neat finishing trick with a tea towel to avoid the witchcraft of Pepin.
What we have here is a hybrid of the Pepin and Kinch methods. Essentially, we are using Pepin's ingredients and Kinch's technique. If you want to make this, then it pays to watch the clips below before trying to make the dish. Words can only say so much when it comes to omelettes.
David Kinch himself had nice things to say about our attempt at his omelette:
Manresa can be found at 320 Village Lane, Los Gatos, CA 95030, USA. Call +1 408 354 4330 for a reservation.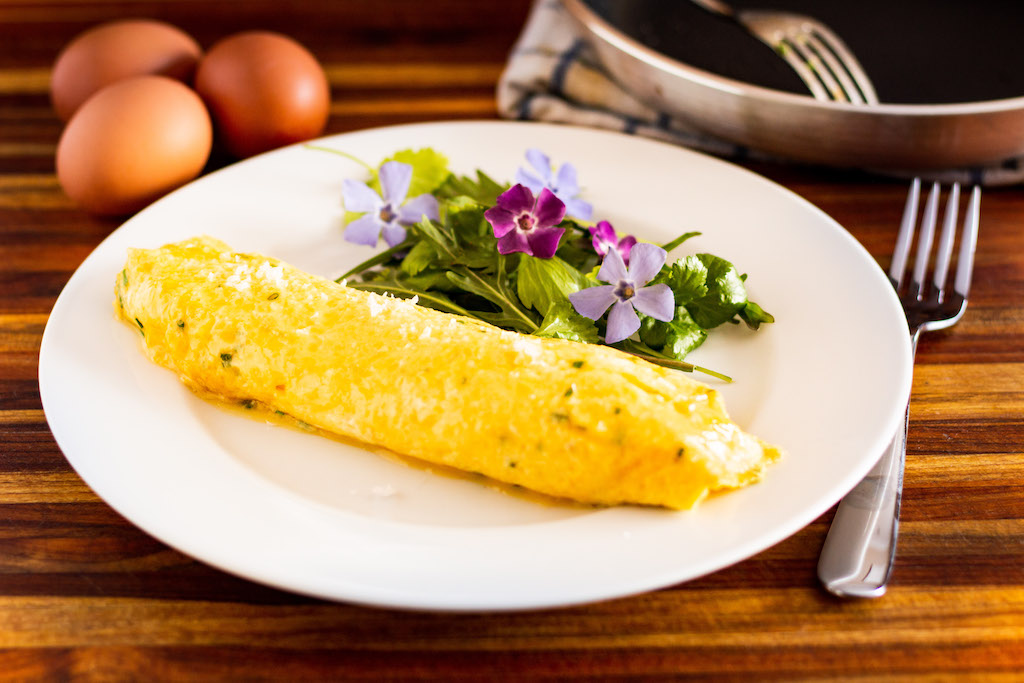 Print Recipe
Omelette classique Française
Ingredients
4 eggs

1 knob of unsalted butter

Chives, chopped (may also be tarragon, chervil or thyme)

1 very small piece of salted butter

Sea salt
Instructions
1
Beat the eggs with the herbs.
2
Heat the unsalted butter in a 24cm non-stick frying pan until foaming.
3
Add the eggs to the pan, and immediately start whisking them up in the pan with the back of a metal fork. When it all stops flowing, start to shake the pan in a circular motion while continuing to scramble. This fills in any gaps.
4
Once the eggs are just setting, fold one third of omelette over from the handle side. Shuffle the omelette to the egg of the pan and fold over the other edge, pressing down with the fork. Slide out and invert onto a plate.
5
Shape by laying over a clean tea towel, and squeezing the omelette into a neat parcel.
6
Glaze the omelette by stroking over with the salted butter. Sprinkle over with sea salt.
Notes
There are a ton of ways to make a classic French omelette, but most variations come down to the tool used to do the scramble. We have seen silicon spatulas used very successfully. Our friend Dr Rick uses chopsticks.