Difford's Guide states that the Strawberry Martini (which Difford calls a Strawberry Cocktail) was invented in London in the 1990s. We think that Difford changed the name of the drink for his book because the Strawberry Martini bears no resemblance whatsoever to any kind of Martini – there is no vermouth and no gin.
From there, the trail goes cold, other than to add that the London in the 1990s was a watershed period for cocktails. It was then that legendary barman Dick Bradshaw was engaged by Oliver Peyton to mix drinks at the Atlantic Bar and Grill. Bradshaw is credited with reigniting the British cocktail scene and modernising it into the latest cool thing to do.
Bradshaw invented both the Bramble and the Espresso Martini. Whether he invented the Stawberry Martini is not known, but we can be sure it would not have come into being were he not mixing drinks in London at that time.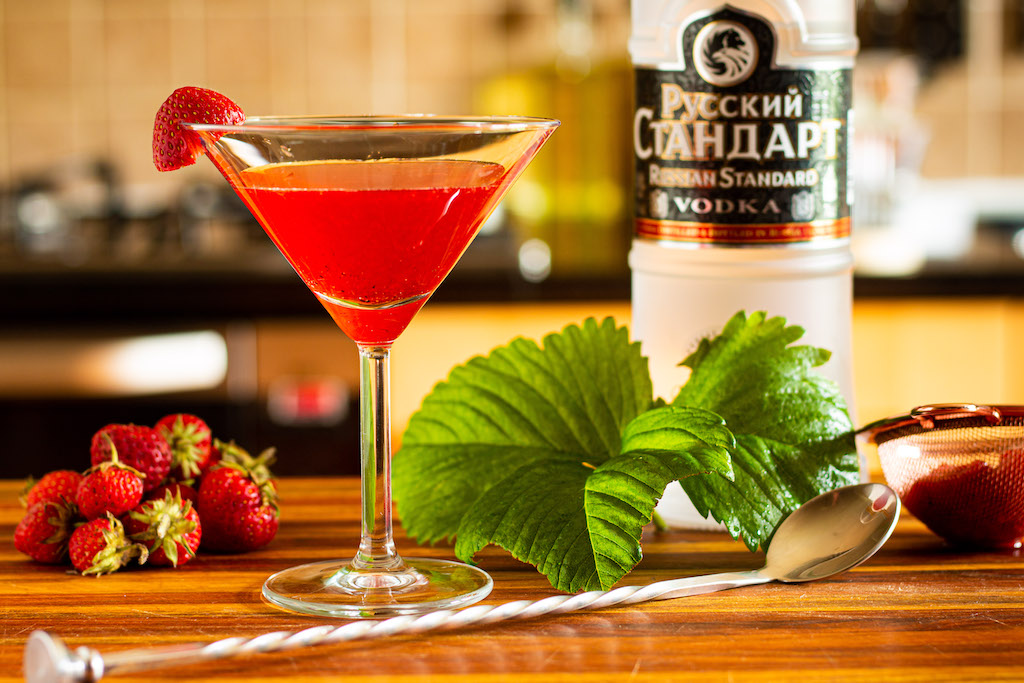 Print Recipe
Ingredients
5 small strawberries, hulled

60ml Russian Standard vodka

15 ml simple syrup

2 twists of black pepper
Instructions
1
Muddle the strawberries in the base of a cocktail shaker.
2
Add all the other ingredients.
3
Shake with ice and fine strain into a Martini glass.
4
Garnish with a strawberry.
Notes
Simple syrup is 50:50, volume:volume caster sugar and water, heated to dissolve, cooled, bottled and chilled. See our Little Black Book page for simple hacks and other syrups.