The deconstruction of classic dishes is coming to a crashing end, and for good reason. The whole thing has been taken too far. If Core Expresso cafe in Newcastle, Australia can serve deconstructed Marmite on toast like this with a straight face, then we know that we are a long way off the reservation:
If you are, like me, outraged by the audacity of this 'here-are-the-ingredients,-make-it-yourself' attitude of 'cooking' that infests the likes of upscale 'designer' Soho burger bars, then you are not alone. Instagram and Twitter are bristling with countless examples of lazily deconstructed food produced to wantonly out-do the 'beyond plates' movement of French fries served in tiny shopping trolleys and full English Breakfasts plated on a coal shovel.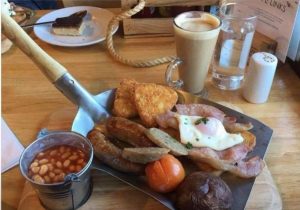 To trace the origin of deconstruction, we need to look at culinary sorcerers like Heston Blumenthal. Most Brits will be well aware of Heston Blumenthal, the Fat Duck in Bray, and Blumenthal's output of bonkers molecular gastronomy that earned him three Michelin stars, celebrity status and an OBE. Blumenthal, however, is not a lone crusader in this arena. Two other chefs bubble to the surface of the liquid-nitrogen-frosted futz of science-based food deconstruction, and they are Italy's Massimo Bottura and Spain's Ferran Adrià.
Adrià is the chef generally acknowledged as the originator of taking food apart and rebuilding it using molecular techniques to create the unexpected. It was Adrià who made a molecular Spanish tortilla. It was he who reinvented the gazpacho using modern techniques of emulsification. At Osteria Francescana in Modena, Bottura smashed up a lemon tart, called it 'I Dropped the Lemon Tart,' and charged twenty quid for it.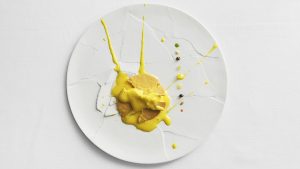 John Williams MBE is not a deconstructionist at heart. Williams is a classically trained chef who has risen from very humble beginnings to the top of his profession, and he now presides over the kitchen of London's Michelin-starred Ritz Restaurant. The Ritz turns out high-level French and British dishes in the classic style, table after table, night after night.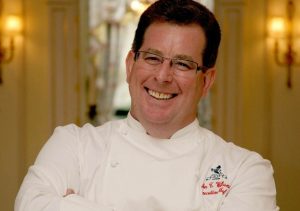 However in his 2018 The Ritz London – The Cookbook, Chef WIlliams includes two pieces of deconstructionism that speak clearly to the idea of familiar taste delivered with supreme elegance, mischief and surprise. One is his gloriously presented trifle, and the other is the kedgeree we have cooked here.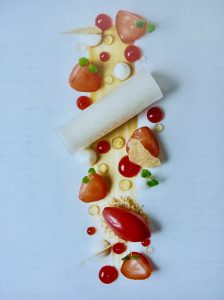 In his book, Chef Williams describes kedgeree as a dish of the British Raj evolved from a Hindu rice dish called 'khichri.' Lazy Victorian recipe writers sometimes called it 'yellow rice.' The original dish mixes curried rice, smoked haddock and eggs in a preparation that can be eaten with one hand, much like any curry. Williams takes that apart and creates an elegant version that piles haddock atop a moulded disc of pilau-style rice, and summits it with sliced egg. A curry sauce is supplied in a hooker with or without de-spicing dairy. There is just enough 'deconstruction' to put elegance back into a one-pot dish, but we are certainly not being ask to build anything ourselves at the breakfast table. This is where deconstruction needs to be. John Williams tells us that this is one of the most popular dishes ordered for breakfast at The Ritz. When I was there, I had the scrambled eggs.
On a personal note, it is appropriate to mention that John Williams (@jwilliamschef on Twitter) has been very gracious to us, and provided direct help for preparing our crêpes Suzette, which is based on the version produced in his restaurant. He also took time to congratulate us on the execution of this kedgeree. This is remarkable support from one of Britain's top chefs to a scrappy food blog run by a pair of amateur cooks.
The Ritz can be found at 150 Piccadilly, London W1J 9BR, UK. Tell John we sent you.
Print Recipe
Ingredients
3 large eggs

For the curry sauce:

70g butter

1 onion, finely chopped

3 cardamom pods, seeds removed and crushed

Half tsp ground cinnamon

Half tsp ground cumin

2 tsp ground ginger

1.5 tsp mild curry powder

2 garlic cloves, finely chopped

1 bay leaf

200ml chicken stock

4 tbsp crime fraiche (optional)

4 tbsp natural yogurt (optional)

For the rice:

50g butter

1 onion, finely chopped

1 garlic clove, finely sliced

2 cardamom pods, seeds removed and crushed

1 cm fresh root ginger, peeled and chopped

Half tsp ground cumin

1 bay leaf

300g basmati rice

600ml hot chicken stock

1 bunch of coriander leaves, finely sliced

For the haddock:

750g undyed smoked haddock fillets, pin bones removed

400ml milk

1 bay leaf

30g butter, cut into small cubes
Instructions
1
Boil the eggs for 7 minutes in lightly simmering water. Refresh the eggs in cold water, then shell under cold running water. Put aside in a bowl of cold water.
2
Melt the butter in a large saucepan over a low heat. Add the onion, stir and place a lid on the pan. Cook gently for about 5 minutes, stirring once or twice, until the onion is softened but not browned. Add the cardamom, ground spices, curry powder, garlic and bay leaf. Cook for a further 5 minutes with the lid on the pan. Pour in the stock, increase the heat and bring to the boil, then reduce the heat to a simmer and re-cover with the lid. Continue to simmer for about 25 minutes, stirring occasionally and topping up with has water, little by little, as the liquid evaporates. Taste as you go: get it to a texture that coats the palate, and certainly the back of a spoon. Remove the bay leaf. At this point, you can add the optional yoghurt and creme fraiche to make the sauce milder. You can also sieve the sauce and then pass the remaining onion through the sieve with the back of a spoon to thicken and give a more elegant look.
3
Melt the butter in a large, heavy-based saucepan, add the onion and stir. Place a lid on the pan and sweat over a low heat for 5 minutes until softened, stirring once or twice. Add the garlic, cardamom, ginger, cumin and bay leaf. Cook gently for 2 minutes, then turn up the heat a little and add the rice. Stir for a minute or two, then pour in the stock or water. Bring to the boil and continue to cook for about 15 minutes, or until the liquid has almost evaporated. When there is little liquid left in the pan, cover the pan with a tight-fining lid and turn off the hear. The rice will finish off in its own steam, creating a wonderfully fragrant aroma.
5
Place the haddock in a roasting tin. Pour in the milk, add the bay leaf and dot with the butter. Cover the tin with foil and bake for 10-15 minutes, until the fish is opaque. Remove the tray from the oven, carefully lift out the fish and set aside to cool (important) before peeling off its skin (discard the this).
6
Drain then slice the eggs. Stir the chopped coriander into the rice and then spoon into warm bowls. Top with the haddock and egg. Pour the warmed curry sauce into a jug and serve on the side, with the yogurt and creme fraiche, if it has not already been added to the sauce.