The very moment I saw the Bacardi Cocktail listed on the IBA web site, my brained triggered to 'court case.' In my head, there was is no way that a cocktail containing a brand name could exist without somebody having taken someone else to court at some stage in its history.
It turns out I was right.
The Bacardi, described by Dale DeGroff as 'The Cosmopolitan of the 1930s,' is a derivative of the basic Daiquiri with the syrup swapped out for grenadine. It was invented in post-Prohibition New York by bartenders keen to serve drinks that appealed to women. It was sometimes known as a 'Pink Daiquiri,' which can create confusion with another, more complex cocktail of the same name that uses maraschino. Additional historical confusion comes from earlier versions of the drink that use syrup instead of grenadine – the are simply mis-labeled Daiquiris.
The Bacardi is made using Bacardi Carta Blanca rum. The problem arose when some sloppy barmen would serve a cocktail made with a different rum when the customer ordered a "Bacardi Cocktail." You can't have people asking for a brand name and then getting something else, so in 1936 the Bacardi Company took the Barbizon-Plaza Hotel to court. The Company won, and anyone serving a Bacardi Cocktail these days must use Bacardi rum.
During the court case, restauranteur Richard Nathans was asked by the bar:
"What kind of meat do you put in a chicken sandwich?"
To which Nathans replied:
"Turkey, the same as in any other restaurant."
The Barbizon-Plaza at 106 Central Park South was sadly acquired in 1988 by narcissist business buffoon and flange-grabbing US President Donald Trump, who converted it into the Trump Parc condominium complex.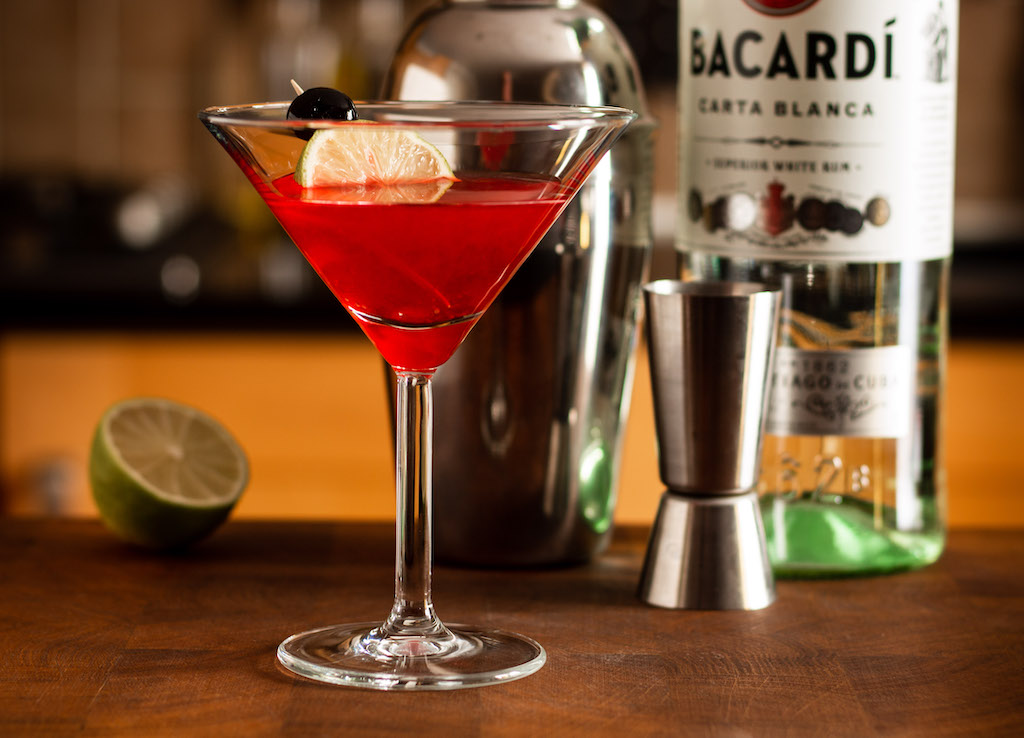 Print Recipe
Ingredients
45ml Bacardi Carta Blanca

20ml fresh lime juice

10ml grenadine
Instructions
1
Pour all ingredients into shaker with ice cubes, shake well, strain into chilled Martini glass.
2
Garnish with a slice of lime and a Maraschino cherry.