I have made some bloody woeful croque monsieurs in my time. I have seen some others that are even worse. When I first started making this dish, I followed a recipe by Delia Smith. The Smith recipe, which is the first hit in Google for 'croque monsieur' appears to be very careful in its choice of two cheeses and very considered in the steps to produce the final sandwich – surely this is the real deal?. However, the Smith recipe version flat out disregards the single most transforming element of the dish, and is so rich with cheese, you wonder why you are eating it.
Years ago, I once ate lunch at Le Panoramic, high above the ski slopes of Les Menuires in the Haute Savoie. They had croque monsieur on the menu. It look shit on the pass, and it looked just as shit as my brother ate it. I had the fries. This monsieur was not the real deal either. My quest for a decent cheese sandwich continued.
Then, some years ago, I was in Paris covering a medical event and I popped out for lunch. I happened on one of those places I love to find – a scruffy, deserted café with bent wood chairs, two septuagenarians at the bar drinking pastis de Marseilles, and a disinterested-looking brunette waitress watching some sport on a small, overhead CRT TV. Many people walk past these places, but those that do are missing out on a whole lot of fun.
I went in, cracked a joke in bad French (might have been Italian), made three new friends and had the best damn croque monsieur of my life. I can still remember what struck me about it. The cheesy topping covered the bread so completely. No gaps. No caught edges. How?
It was only later, then I learned to cook properly that I learned that the topping on a croque monsieur is not actually cheese. It's a Mornay sauce. As such, the dish is the bastard son of a cheese sandwich and a lasagne – it tastes both rich and light all at the same time. It's absolute heaven.
Croque monsieur (or 'gentleman's sandwich') was first made in Paris some time around 1910. It was first mentioned in text by French novelist Marcel Proust (1871–1922) in his seven-volume book In Search of Lost Time.
There are a whole bunch of versions of croque monsieur with different cheeses (such as Comté), different breads (such as pain de mie) and with and without the béchamel. So The Nosey Chef just went to the mothership, dug out Larousse and made the one detailed in there.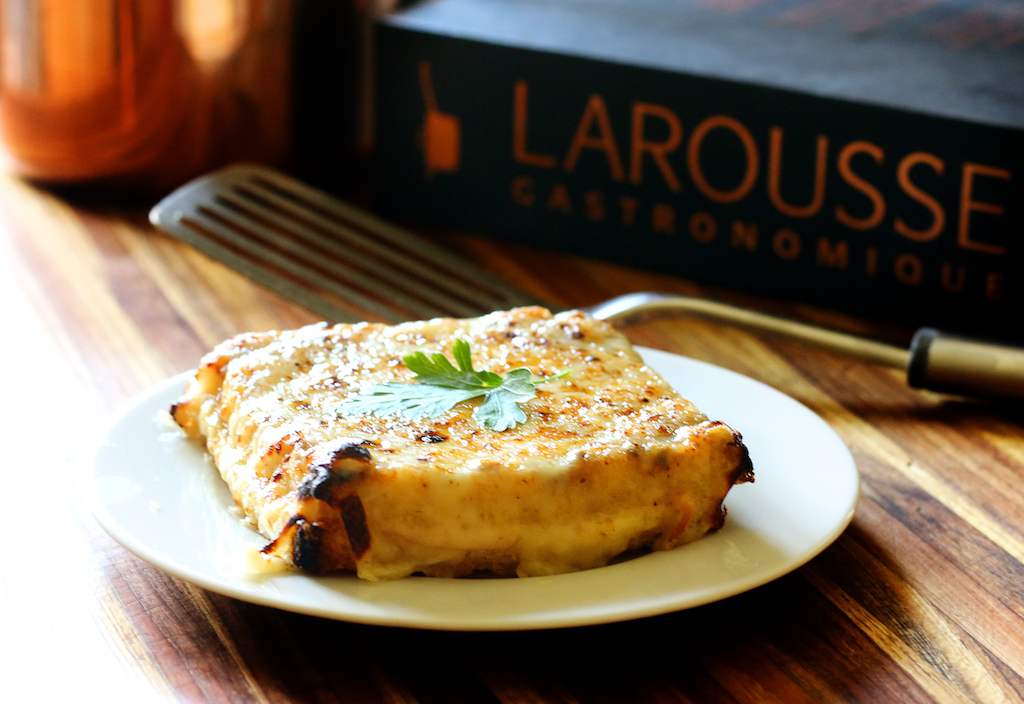 Print Recipe
Ingredients
For the Mornay sauce:

15g butter

15g plain flour

120ml milk

1 handful of Gruyère cheese, grated

Nutmeg, freshly grated

Salt and freshly ground white pepper

For the sandwich:

2 slices of decent sandwich bread, crusts removed

20g butter

1 slice of dry-cured ham cut to fit the bread

3–4 thin slices of Gruyère cheese, enough to cover the bread
Instructions
1
First make the Mornay sauce. Melt the butter in a small saucepan and add the flour. Combine and cook on medium for 1 minute. Gradually add the milk a quarter at a time and mix into the roux until a smooth, glossy sauce is achieved. Add nearly all the cheese and melt into the sauce, reserving some for sprinkles. Season with salt and pepper and grate over with nutmeg. Taste, adjust, and set over a very low heat.
3
To make the sandwich, place ham on top of bread, cheese on top of ham, bread on top of cheese. Heat a griddle pan with the butter. Once the butter is melted, brush it over the exposed bread slices and fry the sandwich on each side until well marked by the griddle pan (you can grill it, but frying it is just better).
4
Put the sandwich on your grill bars and put some tin foil in the undertray to catch the many drips. Pour the Mornay sauce over the sandwich, ensuring total coverage. Sprinkle over more Gruyère.
5
Grill the whole thing under the broiler until bubbling and browning. To get a good browning without burning the corners, a blowtorch can be used for great effect to finish.
6
Serve with an ice-cold French lager.
Notes
Another popular cheese to use for a croque is Comté. I have tried one with Comté, and I find that it is a stringier cheese that tastes a little better than Gruyère in the Mornay sauce, but it becomes chewy as it cools (even slightly), so the sandwich can feel a little heavy. I'm sticking with Gruyère.