When the British zero their inboxes, and knock off work for the four-day Easter holiday weekend, food is never far from their minds. We eat almost as well at Easter as we do at Christmas. While the winter holiday is time for turkey and goose, Easter is the traditional time to eat chicken, lamb and a metric tonne of chocolate.
The British obsession for serving spring lamb at easter time is actually quite puzzling. The production cycle of sheep-derived meat in the UK starts in winter with the lambing. Lambs receive milk for their first few weeks of life before being weaned onto grass. The grass adds tonnes of sweetness and flavour to the meat, therefore the best lamb is to be had when lambs have ingested a good load of it. However, at Easter, the grass has barely started regrowing after winter and lambs are still being born. Therefore, British lamb supplied for an Easter dinner table needs to be either weaned and finished on factory-produced feed or cereal, culled from last year's flock, or defrosted from last summer. This does not provide the best product for cooking and eating. In fact, when I spoke to Ricky who breeds sheep at Newhouse Farm, Chapel-en-le-Frith, she said of spring lamb:
"We don't sell it. There is nothing in that stuff."
If you are a hasty sort of person and you really have to have lamb at Easter, then try to buy grass-finished New Zealand lamb. However, if you are prepared to wait until spring has properly sprung, and your lamb has had a few weeks eating grass, then you will get a better British product. The best time to be eating British lamb is mid-June, which is why we chose to post our lamb recipe this month.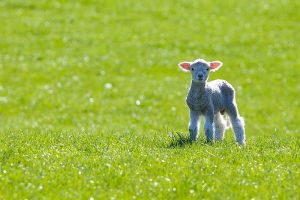 If you must eat British-reared sheep at Easter (and The Nosey Chef recommends you do), then you will have a better experience with hogget. A hogget is a sheep that has been weaned, but has not reached the age of its first shearing. This puts the animal between 1 and 2 years of age. It's not mutton, but it's not lamb either. Certainly, it has spent all the time since last spring eating lovely fresh grass. Hogget, therefore, is richer and tasier than lamb, but needs to be cooked to somewhere past rare.
Getting hold of hogget is actually quite easy. You will not find it in supermarkets, but most good butchers who do not source early-year lamb from New Zealand will supply hogget in the season. We prefer to buy British, so we order hogget for Easter. We obtain our hogget from Ricky, who trades as Farm Girl. If you are local, the ever-busy Ricky will deliver hogget, mutton, Dexter beef and free range eggs to your door (Whaley Bridge deliveries are on Wednesdays).
As a side note, the Persians like to eat what is known as 'milk lamb.' This is un-weaned lamb, and it has a very delicate flavour that would not go over well in a hotpot. Some farmers are on record saying that taking milk lambs for slaughter is quite distressing for the mother, so The Nosey Chef really does not recommend seeking that stuff out. In any case, milk lamb is essentially unavailable in Europe and the United States.
Farm Girl can be found at Newhouse Farm, Chapel-en-le-Frith, High Peak, Derbyshire SK23 0QL. You can get in touch with Ricky via Facebook here: https://www.facebook.com/farmgirlfamily/.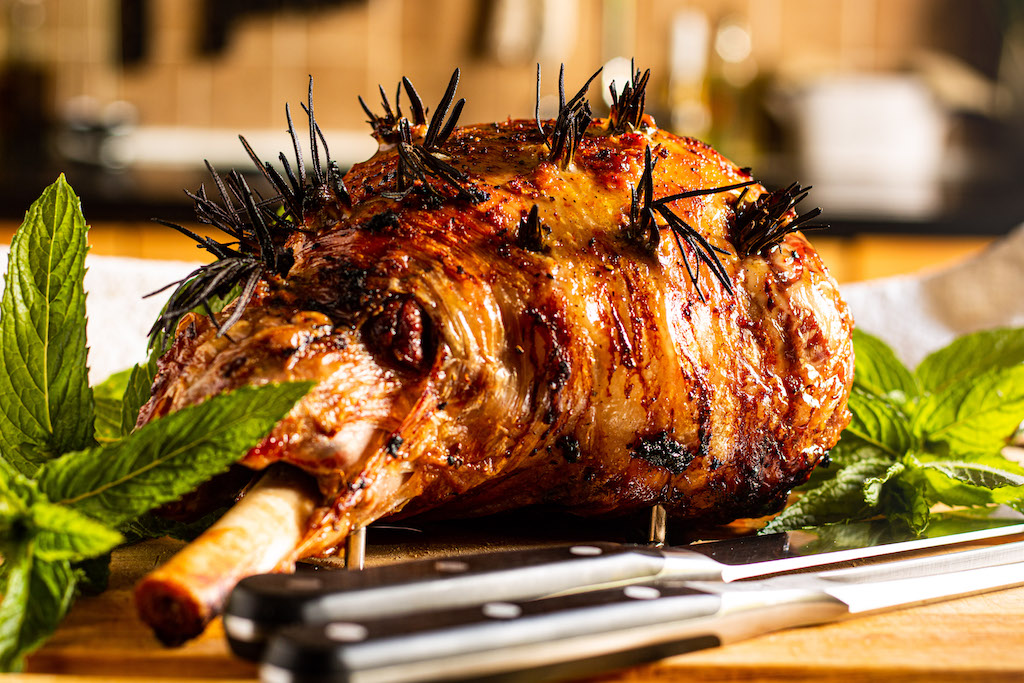 Print Recipe
Roast leg of lamb or hogget
Ingredients
1 leg of lamb (in summer) or hogget (in spring)

2 onions, peeled and halved

3 anchovy fillets, cut across and split lengthways

3 cloves of garlic, cut into small batons

1 large sprig of rosemary cut into 2cm lengths

Zest of 1 orange

1 glass of red wine

2 tsp redcurrant jelly

Sea salt and freshly ground black pepper
Instructions
2
Put the joint in a roasting tin with the onions. Use a paring knife to make holes in the lamb flesh. Stuff an anchovy fillet deep into each hole, and plug the opening with a piece of rosemary and a piece of garlic. You want to do this about 9 times all over top of the joint. Smear the joint with the orange zest and sprinkle over some seasoning.
3
Put the joint in the oven and roast. Your timings are 15 minutes for each 450g, and another 20 minutes extra.
4
30 mins before the end of the cooking time, pour the wine over the lamb. Once cooked, remove the lamb to a carving board, cover with foil and rest for at least 10 minutes.
5
Meanwhile, make a quick jus by heating the roasting tray over the hob, and deglazing with a little more wine. Whisk the residue from the bottom of the pan into the wine and melt the redcurrant jelly into it. Whisk in some butter to gloss it if liked. Strain into a jug.
6
Carve the lamb, and pour the jus over.