In the past months, with the steady pace of article postings, the arrival of Andrew, and the endless popularity of 'Friday Cocktails,' The Nosey Chef has started to get some traction beyond friends and family.
When we run occasional Facebook promotions, we pick up all sorts of followers, and some of these are chefs. This is really cool, and The Nosey Chef has been an conversation opener in the strangest of circumstances. We even have a gig coming up mixing cocktails for Goyt Wines (part of the Portland Wines group) in the first week of December.
I was recently on a flight from Antalya (Turkey) to Manchester (UK), and my fellow passenger, once appraised of the Nosey Chef raison d'être, asked me what my 'signature dish' is. Of course, this is a pretty crazy question to ask a home cook who is making all sorts of stuff with variable quality every day, but I did my new friend the dignity of thinking about it. I cook for a family that has one non-red meat eater, but I like to push the envelope as far as I can, so one of the household staples here is duck. Therefore, if I have one 'signature dish,' then it is some kind of duck thing.
I used to cook duck breast very simply by seasoning and searing it in a hot pan, and then roasting it for 10 minutes at 200˚C. This gives a nice, medium rare duck with a crispy skin. However, sous vide delivers a whole other level of tenderness. In that method, duck is lightly pre-seared, cooked sous vide for 45 mins at 60˚C, and then seared again before carving and serving. The result is utterly sublime. I recommend you try it if you have the kit.
Here follows a typical family duck recipe. It is inspired firstly by Michel Roux Jnr. He did a wonderful piece of TV (that I can no longer find) in which he cooked classic duck with cherries. Thankfully I wrote that recipe down, and the basics of it are here. For the sous vide timings, we looked to Haste's Kitchen. We have adapted the Haste's Kitchen method a bit because sprouts will not cook at 60˚C in a sous vide. They need 80˚C, and that is awkward on a single sous vide rig.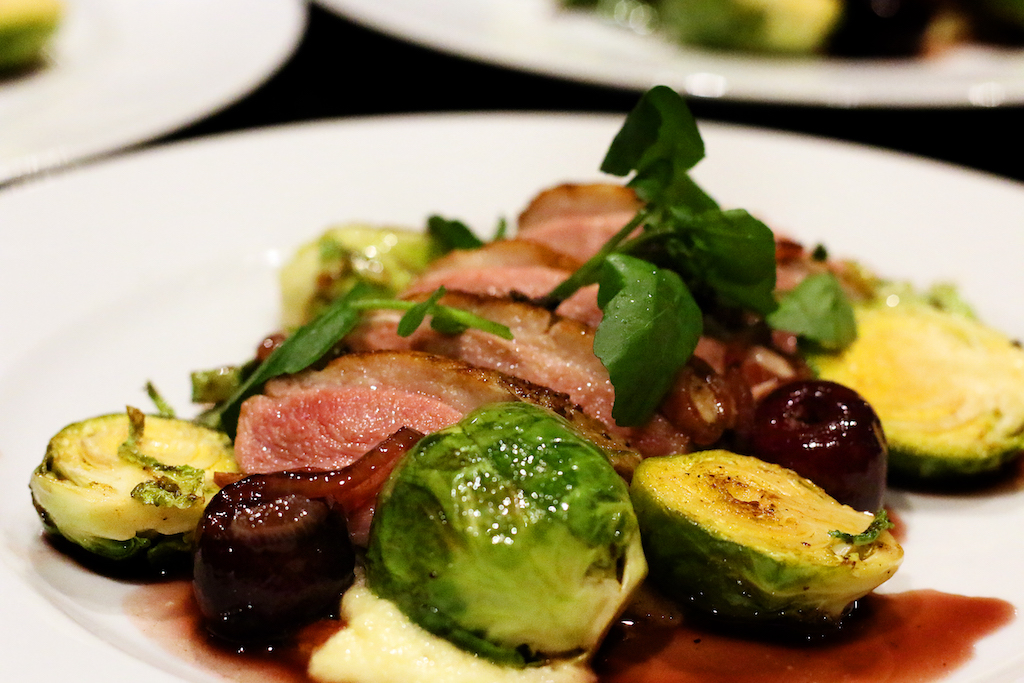 Print Recipe
Duck sous vide with cherries, parsnip purée, braised sprouts and cabbage
Ingredients
4 duck breasts

2 parsnips

150ml double cream

1 garlic clove, crushed

15g butter

1 garlic clove, crushed

2 tbsp neutral oil (e.g. sunflower or vegetable)

Some sprigs of thyme

Olive oil

2 handfuls of shredded cabbage (for this, I recommend cavolo nero, but Savoy will do; white cabbage is a dead loss as we are looking for texture and colour here)

12 sprouts, trimmed and halved

8 cherries, stoned

1 shot of port

15 g butter

Maldon sea salt and freshly ground black pepper

Watercress to garnish.
Instructions
1
Set a water bath to 80˚C.
2
Start by preparing the parsnip purée. Peel, core and cut the parsnips into half inch cubes. Put the parsnips in a bag with the cream, garlic and 15g butter. Add seasoning, lower into the water, seal and cook at 80˚C for 1 hour. Once done (squidge the parsnip pieces between your fingers), blitz into a purée, adding cream as needed to get it to churn. Chill until needed.
3
Set the water bath to 60˚C and give it time to stabilise.
4
Heat the oil in a frying pan. Score the skin on the duck breasts, season, and place in the pan, skin side down. Cook until golden, and remove immediately to cool. Don't wash the pan.
5
Place each of the duck breasts in their own, individual vacuum bags, add a sprig of thyme, and drizzle in some olive oil. Vac seal the bag and place in the water bath for 45 mins.
6
Towards the end of the duck cooking time, steam the sprouts for 10–15 mins until just cooked.
7
Heat the 15g of butter in the used frying pan until foaming. De-bag the duck breasts and place them skin-side down in the pan. Add the sprouts and cabbage and sauté for about a minute. Turn the duck over very briefly (15 seconds) and remove. Continue to sauté the sprouts and cabbage until the sprouts have a light char on them. Remove the vegetables to join the duck.
8
Warm the parsnip purée a little (use a microwave if you like).
9
Add the cherries to the pan, and deglaze with the port. Cook until the cherries are soft and the sauce is syrupy. Season the sauce to taste.
11
To plate up, smear each plate with a dessert spoon of parsnip purée, place the carved duck on top and pour over the sauce and cherries. Cast the vegetables around. Garnish with watercress.
Notes
Duck breasts can be done without sous vide by searing them until the skin is crisp, and placing them in an oven at 200˚C for 10 mins. Rest them a bit before carving. Parsnips can be steamed to done, and creamed.