When I was told the recent history of British gin making it went like this:
Up until about 10 years ago, English distilleries amounted to those making Gordon's, Tanquerey, Beefeater and Bombay Sapphire (and more recently Chase). Supermarket gins were coming from the same sources using lower grades of distillate. Then, in the 1980s, Dick Bradsell reignited London cocktail culture, and suddenly there was a desire to expand the range of available gins. Up steps Sipsmith who applied to the Government for a license to operate a commercial spirit still. The problem was that nobody had licensed a still in England for 180 years, and Sipsmith wanted to make small, 300 litre batches, which Her Majesty's Revenue & Customs classed as 'moonshine.' There was no documentation available to license the new distillery. So Westminster called the Scots in Holyrood and asked for the legal machinery required to license a small-batch whisky distillery. After 2 years of struggle (driven mainly by the dogged perseverance of Sipsmith), this was adapted, Sipsmith signed it, and everyone started making gin. From that spark, the modern gin explosion propagated, and now we have countless interesting gins popping up all the time. This was an absolutely pivotal point in the history of British gin, and we should all applaud Sipsmith for refusing to give up.
I recently (2019) heard a slightly different version of events in which Sipsmith won its case on an individual bass, but the actual 2008 real of the Gin Act was done under pressure from the EU. This information came to me from Chase, via my friend Mike Richardson who was told this on a tour of the Chase distillery.
Back in Scotland, the knowhow was never lost, and was easy for Charles Gordon, the great grandson of William Grant (the whisky guy), to acquire in 1966 two stills that were eventually commissioned in 1988 to start making small-batch gin. The fruits of their efforts were realised in 1999 when the modern Grant family managed to create a peculiar delicacy of rose and cucumber. They called it 'Hendrick's.'
Despite its popularity, Hendrick's remains still a small-batch gin, and is made in 500 litre volumes to enable close control of the final product. The two stills that are used are different (one Carter Head, and one Bennet), and they each produce gins of different character. These two distillates are then blended to make the final Hendrick's product.
There is no doubt that when mixing a Hendrick's Gin and Tonic, this ought to be garnished with cucumber. The lightness of this drink is absolutely extraordinary, and highly recommended by The Nosey Chef.
In researching this article, The Nosey Chef realised the running a Google image search for 'Hendricks stills' does not yield photos of gin-making equipment.
The Hendrick's distillery is located at The Girvan Distillery, Girvan, KA26 9PT, Scotland, and is still owned by William Grant & Sons.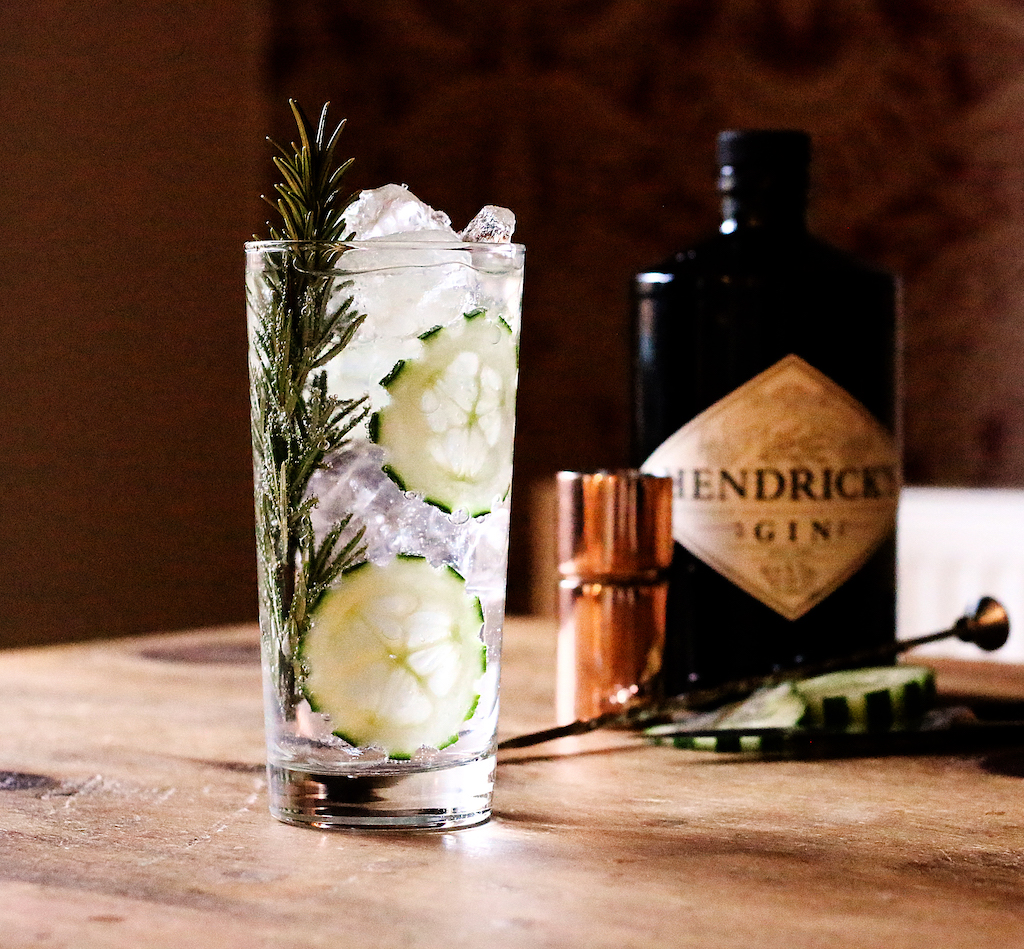 Print Recipe
Ingredients
75ml Hendrick's gin

150ml tonic water

Three slices of cannelled cucumber
Instructions
1
Fill a highball glass with ice. Add the gin and then the tonic. Stir upwards three times with a cocktail spoon.
2
Post the cucumber into the drink alongside the inside curve of the glass.
3
Add a rosemary sprig to stir if you like (see picture).