Would you finish somebody else's sandwich? Would you lick their plate clean? Would you actually eat their plate? As crazy as this sounds, the history of the thick Tuscan bean stew known as la ribollita has its origins in poor people eating the plates that rich people had just eaten their food off. In the Middle Ages, it was common for people to eat food off a 'trencher.' A trencher was often a shallow wooden plate, but it could also have been a large piece of bread, or even a loaf of bread hollowed out to form a bowl. Tradition dictated that the poor received the leftover bread trenchers as alms, now soaked in the run-off from whatever delicacies Lord Richy McRich, Earl of Richmond had for his dinner. The starving recipients of these sloppy seconds would either eat them as they were, or use them to enrich their own stinking gruel of half rotten vegetables.
La ribollita, which translates from Italian as 'reboiled,' is a hearty soup of no fixed recipe that is designed to use up leftovers, bendy carrots, sorry-looking celery and those bits of cabbage that have just started to ooze liquid into the bottom of your fridge. This premise means that you can make a ribollita out of absolutely anything, as long as you remember to add the big slice of bread. Beans are traditional because they grow in abundance in Tuscany.
The recipe provided here can be viewed more as a guideline than a formula, and the only trick is making sure that each component is added at such a time so it is cooked when you want to eat it. As ribollita is 'reboiled,' the soup is traditionally made in large batches and reheated over the subsequent days. As such it will always taste better if made a day in advance of eating. If you are using dried beans, you need to factor in another 12 hours to soak them before cooking. If you decide to make this, then read the recipe through first to make sure you know how much time it takes, and how to handle the split cooking method for the beans.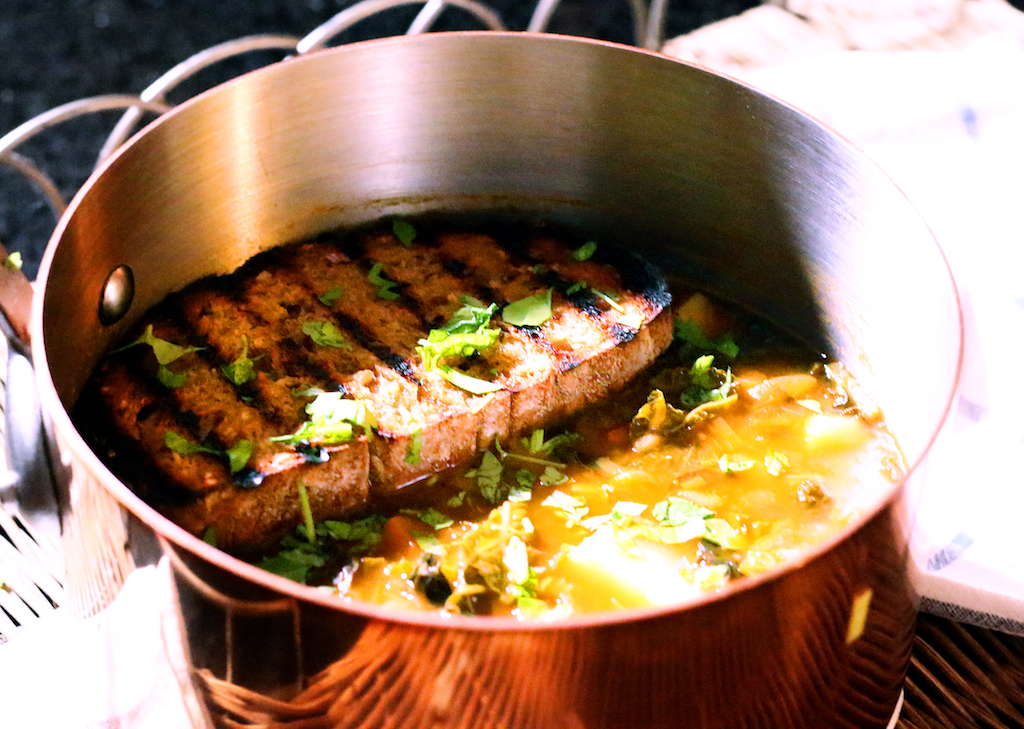 Print Recipe
Ingredients
For the beans:

200g dried cannellini beans

1 onion, quartered

1 celery stalk, roughly chopped

2 garlic cloves, sliced

A bouquet garni of seasonal herbs (e.g. rosemary, sage, parsley, thyme)

For the soup:

5 tbsp extra virgin olive oil

1 onion, sliced

1 tsp dried crushed chillies

2 fresh tomatoes, deseeded and chopped

1 tbsp tomato pureé

3 potatoes, peeled and cut into 2–3cm pieces

2 carrots, cubed

1 leek, sliced

3 celery stalks, chopped

400g mixed cabbage (ideally Savoy and cavolo nero), shredded

2 garlic cloves, sliced

4 sprigs of fresh thyme

Salt and freshly ground black pepper

To finish:

1 onion, thinly sliced (use a mandoline)

1 slice of rustic-style bread per person

2 garlic loves, halved

1 tbsp extra virgin olive oil
Instructions
1
To prepare the beans, soak them in an oversized bowl of cold water for 12 hours (overnight). Drain them, and add them to a large pan (you are going to use the same pan for the soup, so use a big one) with all the other bean cooking ingredients. Pour in enough water to cover the beans and provide a good depth for them to move around in. Bring them to the boil, and then cook them slowly for 1.5 hours. Once cooked, lift out the beans with a slotted spoon, reserve the liquid and discard the vegetables. Pureé three quarters of the beans with a tablespoon or so of the cooking liquid. Set the remaining beans and liquid to one side.
2
Using the pot you cooked the beans in, add the olive oil, heat and cook the onions and chillies with a pinch of salt for 10 minutes. Add the tomatoes, tomato pureé and pureéd beans, and stir for a couple of minutes. Then add all the other vegetables along with the garlic and thyme.
3
Make up 1.5 litres of liquid using bean liquid and as much additional water as is needed. Pour this liquid into the pot, add some salt and cook on a very, very low heat for 2 hours. Once cooked, season to taste with salt and pepper, and leave to cool overnight.
4
The next day, preheat an oven to 180˚C.
5
Add the reserved whole beans, and arrange the thinly sliced onion in a layer over the top of the soup. Bring the soup to a simmer, put a lid on the pot and put it in the oven for 1 hour.
6
To serve, wipe the bread with the cut face or the halved garlic, and brush with the olive oil. Grill the bread in a grill pan until crisp. Put the bread in your serving bowls and spoon the thick soup over. Alternatively, put the soup in the bowl and slide the bread down the side of the bowl so it can be dipped.