Pastéis de nata are recorded as being invented by monks living in the Mosteiro dos Jerónimos at Santa Maria de Belém, just west of Lisbon. At the time they came to be, nuns and monks would starch clothing using egg whites, and this meant that there were an awful lot of egg yolks waiting around to be used up. Of course, egg yolks can be used to make custard, and so emerged the pastel de nata.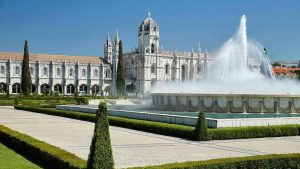 In 1820, Portugal underwent a major political upheaval that began with a good-old military insurrection in Porto. This upset was caused by King João VI's insistence on ruling his transcontinental empire from Brazil. The Portuguese, having seen off Napoleon, were pissed off that the Fatherland was being treated as a principality under British control, and demanded the return of the King and the establishment of a constitutional monarchy in the country. The violence in Porto spread, João VI returned home, and everyone was happy.
The Jerónimos monks, however, were worried. Many religious orders had shut down, and it was risky to be reliant on royal charity in the wake of a revolution. They looked at their growing pile of egg yolks, and saw an opportunity. The monks began making and selling pastéis de nata through a nearby sugar refinery. In 1834, the monastery eventually closed, and the recipe for the pastries was sold to the refinery.
In 1837, the sugar refinery opened Fábrica de Pastéis de Belém, which is still under the same ownership, and still makes pastéis de nata every day. They sell about 14,000 tarts a day for less than a Euro each.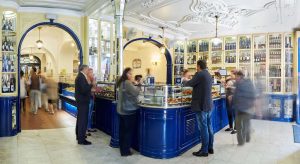 Pastéis de Belém still guards the monks' recipe; and, as such, nobody makes them quite the way they do. Lisboners will attest to being able to pick out a Belém nata in a blind tasting against any other version produced in the city. Given that the original recipe is in a safe in Lisbon, we took our recipe as a light adaptation from the one published by Olive magazine. Their page has a helpful instructional that shows you how to roll and prepare the pastry, which is the only real trick to pastéis de nata.
Fábrica de Pastéis de Belém can be found at Rua Belém 84–92, 1300-085 Lisbon, Portugal.
Print Recipe
Ingredients
2 tbsp plain flour

320g all-butter puff pastry sheet

250g caster sugar

2 strips of lemon zest

1 cinnamon stick

2 eggs

4 egg yolks

50g cornflour

500ml milk

1 vanilla pod, split
Instructions
1
Roll the pastry out, and then roll up to create a long sausage. Cut the pastry into 2cm sections. Lightly roll these out end on until large enough to line your muffin tin.
2
Pre-heat an oven to 220˚C
3
Make a syrup by bringing the sugar, 200ml water, lemon zest and cinnamon stick to the boil. Reduce this until it is syrupy enough to run off a spoon in an thing, continuous strand. Remove the cinnamon and lemon and allow the syrup to cool.
4
In another pan, whisk the eggs, egg yolks and cornflour until smooth.
5
In yet another pan, heat the milk and vanilla pod in a separate pan until beginning to bubble (don't boil it). Allow the milk to cool a little, an then pour into the eggs while whisking. Cook this mixture on a low heat for about 5 mins, whisking all the time. If there is any hint of egg scrambling, get it off the heat and whisk like hell.
6
Add the cooled syrup to the custard and whisk until thickened.
7
Pour the custard into the pastry cases and bake in the oven for 20 mins until the custard is browning in places.
8
Cool in the tins and turn out onto a wire rack. Dust with cinnamon and icing sugar to serve.
Notes
There is another way of preparing the pastry cases that involves stretching the wheels out in the muffin tin rather than using a roller. There is a lot of sense in this idea.