Pot au feu ('pot on the fire') is one of the oldest identifiably French dishes. It is so basic and obvious that it was probably being cooked by early Man, shortly after the landmark 'control of fire' event 600,000 years ago. The term 'pot au feu' arises much later in the 19th Century as an evolution of the earlier 'pot pourri,' which essentially means a mix of stuff in a pot.
Traditional pot au feu puts vegetables and rough cuts of beef in a pot of water, and cooks them on a low heat for an age. This is very similar to the Austrian dish 'tafelspitz,' and not entirely dissimilar from an Italian 'brasato.' Critically, this can be cooked very well in the middle of a medieval Loire valley forest by people with no hard shelter.
Pot au feu received something of a marketing boost in the 1500s when King Henry IV of France (the same guy who was shipping confit de canard from Gascony to Paris) stated:
"Je veux que chaque laboureur de mon royaume puisse mettre la poule au pot le dimanche."
In English, this works out to:
"I want no peasant in my kingdom to be so poor that he cannot have a chicken in a pot on Sundays."
Deviating from the traditional beef, Raymond Blanc provides a recipe in his Simple French Cookery book for a pot au feu made with pork belly. I happened to have a piece of pork shoulder hanging about, so I went ahead and cooked a pot au feu du pork with that. Note that if you can get some bone with the marrow in, add that and then scoop the cooked marrow out and spread on toast.
I do have to warn anyone thinking of making this dish that it is brutally simple, and this comes through in the taste. Like its kissing cousin Icelandic kjötsupá, pot au feu demands pretty ferocious seasoning.
To serve the dish, use some of the broth as a thin soup starter. This can be enriched by the addition of some kind of carbohydrate. This could be pasta, noodles, potatoes, or even sliced up crêpes if you want to keep things French. The meat and vegetables are served as the second course with some of the broth poured over.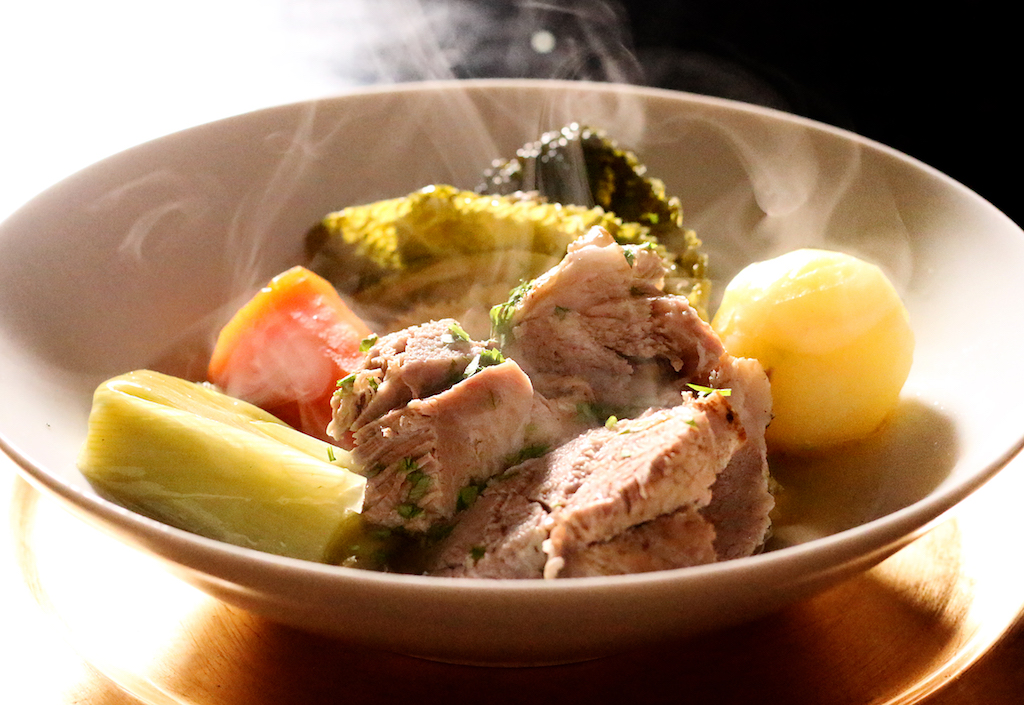 Print Recipe
Ingredients
1.5kg pork joint (belly, or shoulder)

Fresh sage leaves or 2 sprigs of thyme, picked

50g butter (optional, see method)

3l water

4 carrots, peeled and halved

6 whole garlic cloves, peeled

A bouquet garni of fresh herbs, tied

2 sticks of celery, stringed and halved

6 whole shallots, peeled

2 leeks, outer leaves removed, cut into thirds and tied together with string

Half a savoy cabbage, cut into four with the core retained

4 potatoes, peeled and quartered

2 tbsp fresh parsley, finely chopped

Sea salt and freshly ground black pepper
Instructions
1
Depending on the joint of pork you have either lay it out flat, season it, add the herbs (belly), roll and tie, or tie stuff the herbs into any crevices in the joint, ensure it is tied tightly and season (shoulder).
2
If you are using belly, dry fry the meat in a sauté pan until lightly coloured. If using shoulder, put a bit of butter in a sauté pan, get it foaming, and then brown the meat. The difference in the searing comes from the fact that the belly will release its own fat, but the shoulder will be more reluctant to do so.
3
Put the meat in a large pot (e.g. a stock pot) with the water and bring to the boil. Reduce to a low simmer and cook for 1 hour. If you have bones, add them now for this step too. Skim off any impurities that rise to the surface. If you cook this on too high a heat, be prepared for tough pork.
4
Add the carrots, garlic and bouquet garni and cook on low for another 30 minutes.
5
Finally, add everything else (apart from the parsley) and cook on low for another hour.
6
Stir the parsley into the broth. Lift out the pork and carve it. Serve as described in the article above.