If you could travel in time, then asking someone for ravioli would be more confusing than that scene in Back To The Future where Marty McFly tries to order a glass of TaB, and then asks for a Coke Free. Set your TARDIS prior to the 18th Century, and "Ravioli, por favore!" would get you a bowl of gnocchi. To get a stuffed pasta, one would have to master "Signore? Mi vorre una ciotola di tortelli." (Sir, I would like a bowl of tortelli). Over time, and for reasons unknown (but probably driven by popular Italian food writers) 'ravioli' came to mean stuffed pasta. An interesting, trickier variant is agnolotti.
Although Italian through and through, it is interesting to note that Britain plays host to a certain 'famous' ravioli recipe that any food hound worth their bar bill will know about. This dish is Marco Pierre White's lobster ravioli. It was on the menu at Harvey's in Wandsworth, London when White was head chef there until 1993. White tutored Gordon Ramsay at Harvey's, and Ramsay took the recipe to his Royal Hospital Road restaurant, and it is still there to this day, right at the head of the menu. Cooking Marco's lobster ravioli requires some cheffing chops, and I have had a go at it twice, with greater success in Round 2.
We are not covering lobster here here, instead we are talking about how the inspiration and the challenge of Marco's dish taught me a bunch of pasta basics, that eventually let me do ravioli with relative ease. Soon, these little pasta dumplings, full of mystery, became a common item on domestic and dinner party menus at our place. Ramsay's spinach, ricotta and pine nut ravioli is a firm favourite.
One of the best applications I have found for ravioli is for using up meat and poultry leftovers. I cannot bear to throw out meat (it ain't right, man), and it is not that difficult to dream up a filling mix once you know what you are trying to achieve. For me, the first principle of a ravioli filling is that it has to be super-tasty. I don't just mean 'tasting nice,' but it has to be so full of flavour that you could not really imagine eating a bowl of it. This is needed because the pasta it is wrapped in will be very bland in comparison, so when the ravioli is eaten, the whole thing works together as a fine thing to taste. The next bit that I think is important is to know the consistency you are going for. You need something that will ball, and not be dry, but it can't be wet, as that would soak the pasta and put holes in it before you can cook it. I think that the best thing to aim for is something that is a lot like raw mince with an egg in it – like burger or meatball mix. How you get there from dry, cooked meat involves a food processor, imagination, parmesan, and soft cheese or eggs. In the recipe here I used ricotta to gain the softness back. Last week I did a brasata of brisket, and I had no cheese handy, so I did it with egg. I would advise that you start dry and work up to soft, rather than putting all the recipe-mandated 'wet bit' in at once.
Finally, think about a sauce to toss the ravioli in. The recipe here uses a butter-based sauce, but my brasata ravioli mentioned above used some of the left-over casserole broth, livened up with some fresh tomatoes and herbs – a little like the meaty agnolotti di Piedmonte that I had in Mi Chi? in Claviere. It is also nice to add some bite to a ravioli dish, hence the pine nuts.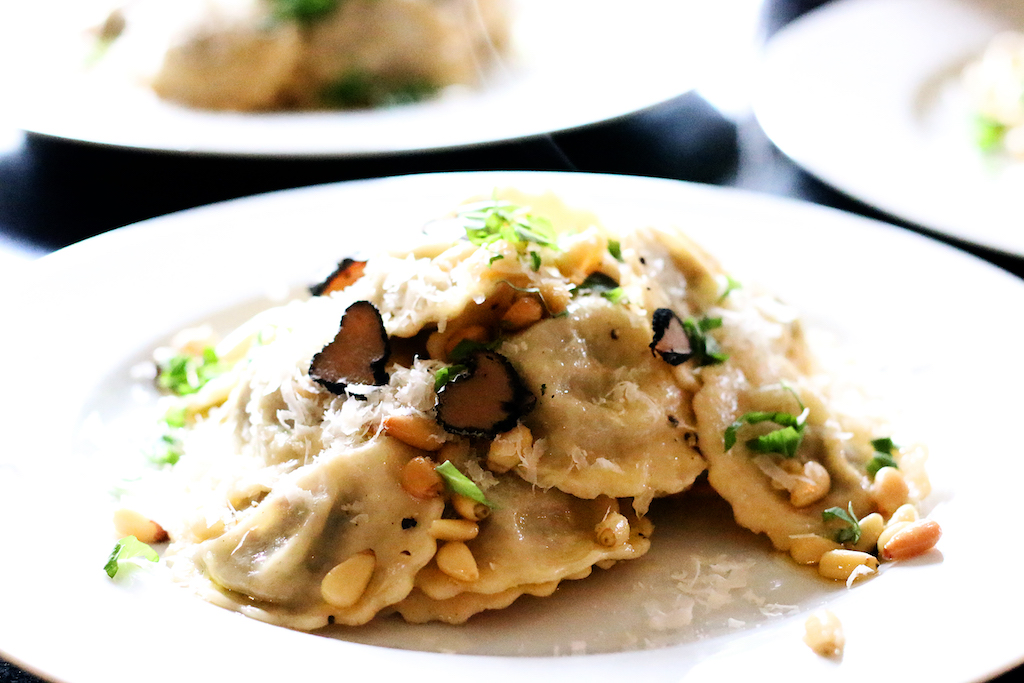 Print Recipe
Ravioli di anatra e broccoli
Ingredients
A quarter of a left-over Chinese crispy aromatic duck

1 head of broccoli

Olive oil

2 tablespoons of ricotta

Fresh nutmeg

1 tsp cinnamon

1 lemon

1 handful of pine nuts

4 tbsps grated parmesan

50g butter

2 cloves of minced garlic

1 small black truffle

A bunch of basil
Instructions
1
Preheat an oven to 180˚C.
2
Season the broccoli, toss in olive oil and roast in the oven for 20 mins, turning occasionally.
3
Strip the duck from the bone, and blend in a food processor with the broccoli, half the ricotta, half the parmesan and all the cinnamon, adding a good grating of nutmeg. Your ravioli filling should fairly moist and malleable into balls but not wet – you don't want to soak the pasta. Continue to add ricotta by stirring, until the filling reaches that consistency.
4
Season to and squeeze in some lemon juice to taste.
5
Make 300g fresh pasta and roll thinly.
6
Place small-ish balls of the filling on the pasta sheet, brush the edges with egg, fold while expelling the air, and cut into individual raviolis.
7
Toast the pine-nuts in the oven, watching them like a hawk (they burn very easily).
8
Boil up a deep pan of water and cook the raviolis for about 2 mins.
9
While the raviolis are on, melt the butter in a large frying pan and toss in the pine nuts and garlic.
10
Drain the raviolis, and toss them in the butter in the frying pan.
11
Serve the raviolis with more grated parmesan, sliced black truffle and torn basil.
Notes
I will cover making pasta in another post – it deserves some space. You can omit the truffle – it was a decadent, last-minute idea of mine and I had some handy slices frozen.