So many kids seem to dislike rhubarb. I was never among them. I adore the stuff – its violent tang still pokes through the sugar that it is usually cooked with, and stewing rhubarb results in a complex, sweet and sour mixture that I cannot get enough of. Although it is technically a vegetable, rhubarb has gained honorary status as a fruit. In fact, the Americans, never a bunch to let facts stand in the way of convenience, had a 1947 New York court declare rhubarb as a fruit because it is most often cooked like one. The legal action reduced the import tax bill, and boosted the popularity of this peculiar veg.
The traditional season for rhubarb runs from April/May and spans the summer months. Most gardens can readily grow rhubarb, but we have a patch at the back of ours that seems resistant to plant life of any kind. I tried rhubarb back there, and it just died on its arse.
In the UK, there is a second rhubarb season in winter that ends in March. When one looks into the mechanics of winter rhubarb, the process seems bonkers, but the product is amazing. Winter rhubarb is grown in fields for 2 years, before being uprooted and moved indoors immediately after a frost. The long, low sheds that the rhubarb is grown in are heated with coal-fired stoves. When it is time to harvest the rhubarb, this is done by candlelight to avoid 'waking up' the vegetables. Compared with summer rhubarb, forced rhubarb is more tender, more red in colour, and has yellowy, anaemic-looking leaves.
All of this witchcraft is going on inside the so-called 'Rhubarb Triangle' in England. The Rhubarb Triangle is supposedly formed by drawing a perimeter between the Yorkshire towns of Leeds, Bradford and Wakefield. However, doing so actually excludes the largest forced rhubarb producers. More accurate is a triangle drawn by connecting Rothwell, Morley and Wakefield. However, regardless of actual location, the Yorkshire rhubarb triangle is famous for production of winter 'fruit,' and many of the towns and villages inside the area celebrate rhubarb with obsessive levels of fervour. Wakefield, the self-declared capital of rhubarb, has an annual festival of 'food, drink and rhubarb,' specifically calling out rhubarb as the chief attraction.
In 2010, Yorkshire Rhubarb Triangle forced rhubarb was given European Union PDO status, thereby protecting its origin until such time as Brexit.
In the UK, it is fair to say that the bona fide classic way to cook rhubarb is in a crumble. Rhubarb is often crumbled on its own, but there is a lot to be said for pairing it that that other autumn/winter bounty – the super-tart Bramley apples. In this recipe, we provide a method for a rhubarb and apple crumble with a dash of grenadine. I like to add a a wee bit of grenadine to rhubarb dishes to maintain the colour and add a little more fruity flavour. Don't go adding too much though.
When making the crumble topping, most food writers will tell you to rub the flour and the butter together with the fingertips until it resembles breadcrumbs. This will give you a nice, coarse crumb, but I can't be bothered with all that faff. I just whizz the whole lot in a food processor. I get a finer crumb, but I save time and am not reminded of school Home Economics classes with Miss Quirie, where the manual method was Lesson 1 on Day 1 back in the summer of 1982.
We got our Yorkshire forced rhubarb in January from Foster's Fine Foods, 3 Hayfield Rd, Chapel-en-le-Frith, High Peak, Derbyshire SK23 0JF.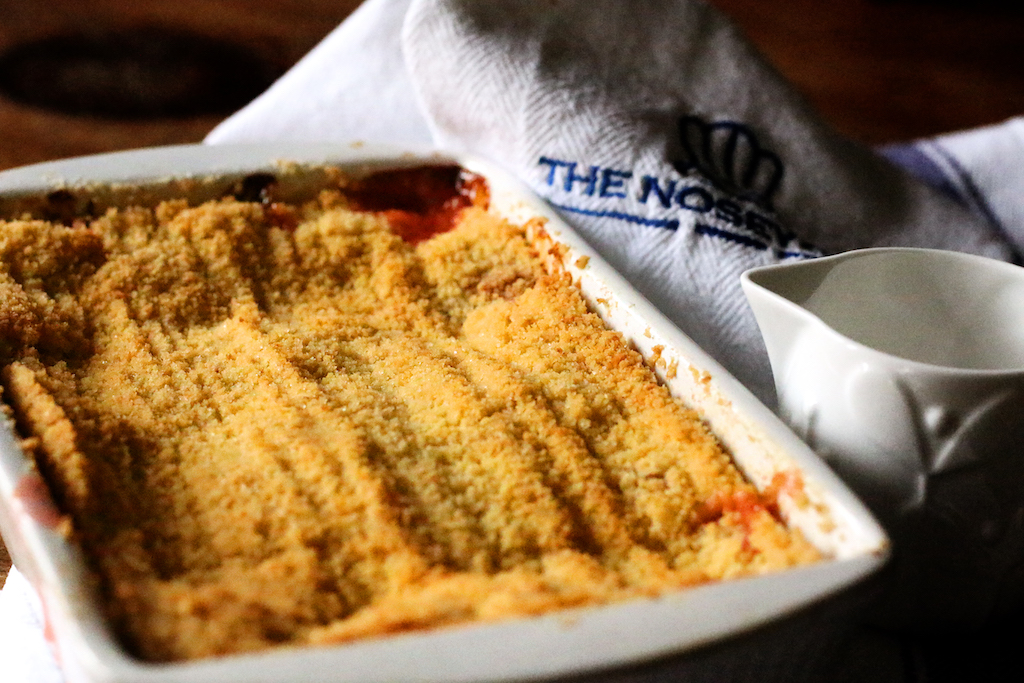 Print Recipe
Winter rhubarb and apple crumble
Ingredients
For the topping:

175g plain flour

110g caster sugar

110g cold butter cut into pieces

For the filling:

250g Yorkshire forced rhubarb, washed and cut into 2cm pieces

150g Bramley apples, peeled and cut into small chunks

75g caster sugar

1 tbsp grenadine
Instructions
1
Preheat an oven to 200˚C.
2
Place all the topping ingredients in a food processor and blitz it until the butter is combined.
3
Mix the fruit, sugar and grenadine together, and arrange in the bottom of a buttered oven-proof dish.
4
Spread the crumble mix over the top, but do not press down. Drag a fork over the surface to roughen it. Depending on your dish, you may end up with some crumble mix left over.
5
Place the dish on a baking tray to catch any drips, and bake in the oven for 45 mins until golden. Serve with custard or vanilla ice cream.