Pain perdu, or 'lost bread,' is what most non-French speakers call 'French toast.' As you can expect, a dish that uses up stale bread is very old indeed. There is a recipe that describes something like French toast in Apicus – the Roman cookbook of the 5th Century AD. Here is the recipe as it appears in the Project Gutenberg version of Apicus:

Much later, in the early 13th Century, King Henry V of England was riding high. In 1415, he initiated a new phase of the Hundred Years War by invading France. To the British aristocracy, invading France was a popular pastime, enjoyed much as you or I might go for a bicycle ride. Henry V was particularly good at invading France, and his expedition south culminated with a famous victory at the Battle of Agincourt (1415) that very nearly resulted in complete capitulation of France to the English Crown.
As you can imagine, Henry V and his chums spent an awful lot of time in and out of France, and it was this shower of military hooligans who coined the term 'pain perdu.' Around the same time, the dish was also called 'armer ritter,' or 'ameritte.' Translated out of French, we get 'poor knights' (or specifically 'poor knights of Windsor'), with the idea that not all knights were rich men who could obtain fresh bread every day.
There is another controversial tale (i.e. probably bollocks) that attributes the term 'French toast' to innkeeper Joseph French working in Albany, NY in 1724. Being a grammatical dullard, French advertised his buttery browned bread treats as 'French toast,' missing off the possessive apostrophe from his own name. Although America can claim no inventive rights to pain perdu, it is actually the country where I encounter the dish most often.
The recipe we use is adapted from that of Raymond Blanc, who published it in his hugely successful Simple French Cookery.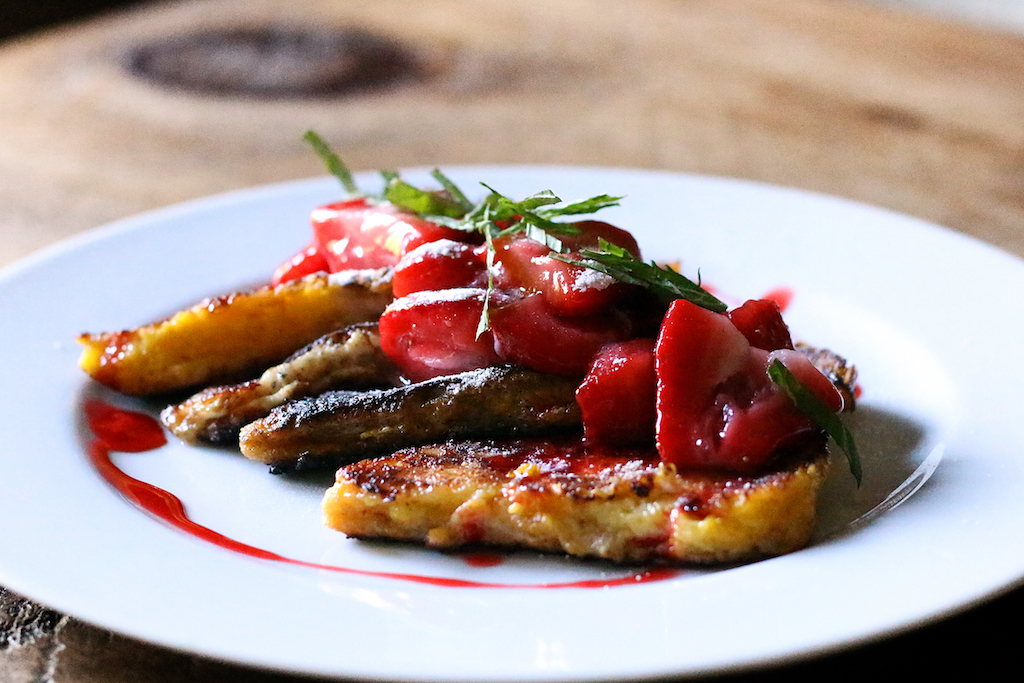 Print Recipe
Pain perdu avec des fraises
Ingredients
For the bread:

2 large eggs

50g caster sugar

100ml milk

2 tsp cognac

A dash of vanilla extract

4 slices of bread, crusts removed, cut in half diagonally

40g unsalted butter

For the strawberries:

4 tbsp water

50g caster sugar

25g butter, diced

200g strawberries, cut in half (or quartered if too big)

2 tsp kirsch
Instructions
1
To prepare the bread, whisk the eggs, sugar, milk, cognac and vanilla in a baking dish, and place the bread in to soak for 5 mins. Carefully turn and soak for another 5 mins.
2
Start to cook the strawberries. Heat a frying pan with the water and sugar. once the sugar is dissolved, add the strawberries, butter and kirsch. Cook until the sauce become rich and syrup. Take off the heat while you cook the bread.
3
To cook the bread, melt the butter in a medium pan and fry the bread on both sides until golden.
4
Place the bread on warm plates, and place the strawberries on top. Spoon over with the remaining sauce and garnish with dusted icing sugar and shredded mint.
Notes
You can swap the berries out on this. Raspberries are a no-brainer. Blueberries will be good too. Tart fruits will need more sugar.