The point of origin of moules marinière is somewhere along the coast between The Hague and Brest. Certainly, the Belgians are adamant that they invented the French fries that are paired with moules marinière to create the hugely popular 'moules frites.' While this claim is debated over and over, we can be sure that continental fishermen working the English Channel would (and still do) supply coastal towns with winter mussels when other, more refined fish choices were not available. The term 'marinière' simply means 'like a sailor.' In other words, this is food that can be cooked quickly and easily, either on the dockside after a tough expedition on a trawler, in the galley of a tiny yacht, or even on the deck of a French fighting ship pitching around from wave to wave while under repair from the last fusillade of the British Royal Navy.
Marinière dishes do not necessarily contain fish. A case in point is the famous pizza marinara, which is simply pizza dough with tomatoes on it and nothing else. If you happen to see (as we did in Wengen, Switzerland this year) a pizza marinara with anchovies, tuna, cheese, and loads of other bollocks scattered over it, then you would be right to grab a pen and annotate the menu with your personal message to the mistaken chef.
Now, while not generally known to get stuff wrong, Auguste Escoffier wrote a recipe for the moules marinière that is about as rough, ready and sailor-like as Marie-Antoinette's freshly powdered nose.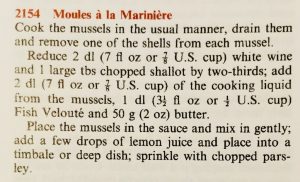 This recipe has all sorts of problems. It cooks the mussels up front in an unspecified manner, it has so many steps after the primary cooking that the flesh goes cold, and then it includes a very unshipman-like velouté. Even the late Keith Floyd, who did many a cooking sketch either on a boat, or on a shore very near a boat, never did anything so awkward as making a velouté while under sail.
With Escoffier kicked into the long seaweed, the choice in recipes for moules marinière is legion. In circumstances like this, the best place to find the definitive chef's method is to open a copy of Institut Paul Bocuse Gastronomique, and take a lesson from the undisputed master of modern French cuisine. It is the Institute recipe that we have provided here. It does not include the cream that so many other recipes seem to include.
While the Nosey Chef team were in Wengen moaning about pizza, Paul Bocuse sadly died.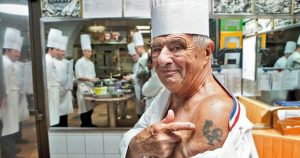 In the Northen hemisphere, mussels are in season from September to February.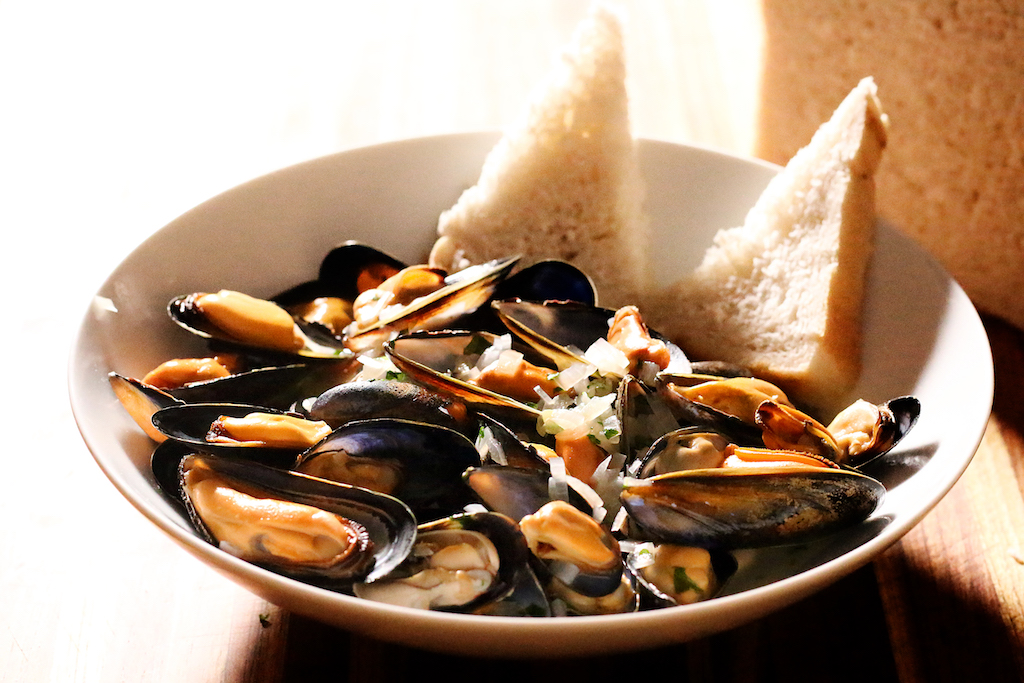 Print Recipe
Ingredients
2kg fresh, live mussels (this may seem like a lot for two people, but you may reject up to a third of them in preparation, so you need to buy more than you are going to need)

3–4 shallots, chopped

100g butter

200ml dry white wine

1 bouquet garni (bay leaf, thyme and parley stalks tied up with string)

4 tbsp parsley, chopped
Instructions
1
Begin by preparing the mussels. Start by pulling the 'beards' off them, and kicking off any barnacles with the back of a chef's knife. It is important to get any residual sand out of them, so wash them in a bowl and sieve through enough changes of water until the water remains clear. Discard any mussels that have broken shells, or that do not immediately close under light pressure.
2
In a large, heatproof casserole dish, add the mussels, shallots and half the butter. Pour in the wine and add the bouquet garni. Cover with a lid, and cook over a high heat for 5 mins until the mussels have all opened. Shake the casserole a few times during the cooking.
3
Lift out the mussels with a slotted spoon, pull off one half of their shells and discard. Keep two shells whole to use as eating pincers for each of the two diners.
4
Pour the cooking liquor into a saucepan, leaving the last bit behind as it may contain sand. Bring the sauce to the boil, whisk in the remaining butter and add half the parsley.
5
Divide the mussels between two bowls (pasta-size bowls are useful for this), and pour the hot sauce over, but don't drown the mussels too much. Sprinkle with the remaining parsley.
6
Serve with crusty bread to dip in the cooking liquor.