My experience with gravadlax began with not being able to get any. I was lunching in Copenhagen during a medical conference I was working at. This must have been in 2013. I sat with my friend at a restaurant table alongside a canal, and spotted gravadlax on the menu. Knowing it to be very traditional of the area, and not having had it before, I ordered it, only to be told they had run out. I was a bit peeved to have been denied gravadlax in an actual Scandinavian city.
A couple of years later, while trying to come up with a zero-maintenance starter for Christmas dinner that wasn't smoked salmon (again), I hit on the idea of making gravadax. I am so glad that I pushed myself to have a go, because the process is incredibly simple, and the results are amazing. Friends, and even our gardener, have left my kitchen and gone and made their own. The taste is nothing like smoked salmon – it is a delicate, lightly pickled fish. Certainly, it is a perfect alternative for a festive starter or as a canapé, and can be enjoyed at any time of the year if you have some salmon and a bit of fridge space.
Like many simple foods, gravadlax was born of necessity. Dating from the Middle Ages, the curing process was a means of preserving fish, and in those days the flesh was fermented by burying the salted fish on the beach above the high water mark. Over weeks, the fish would ferment; over months it would actually start to decay – but those crazy fishermen still ate it. The name 'gravadlax' starts to make sense when you think about digging a 'grave.' 'Lax' is salmon, which I suppose may by why Americans call smoked salmon 'lox.'
Gravadlax is usually served with the unpronounceable hovmästarsås, which is the mustard and dill sauce given in the recipe below. If you can get hold of black rye bread, then all the better.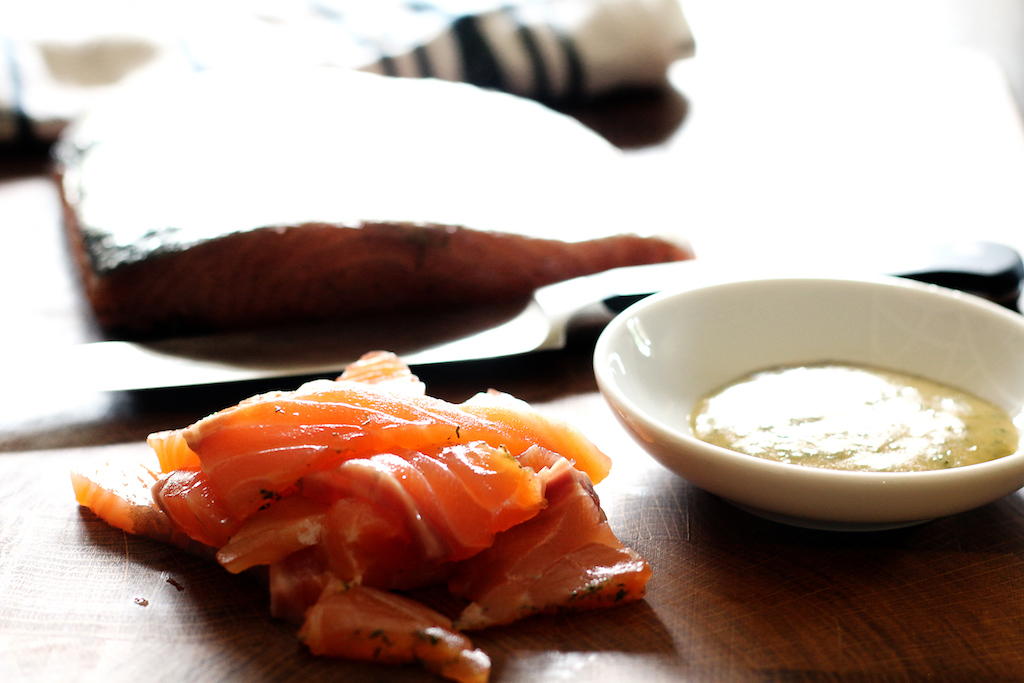 Print Recipe
Ingredients
1 side of salmon (about 1kg); pull put any pin bones

1 tbsp peppercorns

70g caster sugar

70g coarse sea salt (no need to measure, it's just 50:50)

About 3 dill plants for the cure and the sauce

2 tbsp Dijon mustard

2 tbsp soft light brown sugar

2 tbsp cider or white wine vinegar

Pinch of salt

2 tbsp vegetable oil

50g dill, stalks removed and finely chopped
Instructions
1
Trim any thin bits from the sides and tail end of the fillet to make it into a evenish rectangle – this may seem a waste, but thinner bits will overcure and be inedible, so it's better to eat them now. I froze these bits and used them as standard salmon fillets.
2
Crush the peppercorns in a pestle and mortar, then mix with the sugar and salt. Roughly chop the dill. Put one of the fillets, skin-side down, in a dish and put half the dill on top, followed by the salt and sugar mix. Finish with the remaining dill (keep some back for the sauce!), then put the other piece of fillet on top, skin-side up, so it looks like a big, silver, fishy sandwich
3
Put a small board or lid on the dish, weight it down with something heavy. I use jars already in the fridge.
4
Chill for 48 hours, turning the fillet over every 12 hours or so. Liquid will come out, so consider if you need to put the dish inside another, bigger dish or on a tray.
5
To make the mustard sauce, whisk together the mustard, sugar and vinegar. Add a pinch of salt, then whisk in the vegetable oil. Add the dill.
6
Scrape the cure from the fish. Slice and serve with the sauce.