Some years ago, I started my current career, and it can involve a lot of travel. Owing to the distribution of pharmaceutical company offices, this meant that I spent a fair bit of time in New Jersey, based out of my company's Manhattan offices. We used to get billeted at a hotel in the UN complex. I recall that if I took a stroll maybe a one diagonal block from the UN, I would happen upon a proper NYC diner. It was there that I got to like the peculiar marriage of cooked starch, bacon and syrup.
A couple of years later, I was in the Peninsula Hotel, Beverley Hills, and I made a colossal faux pas. I ordered the stack of pancakes. It seems that I might have well have ordered a dead baby with a lit sparkler up its butt at an antenatal convention. One does not eat anything but fruit at the Peninsula breakfast table.
It transpired that, at the time, the Peninsula was the place for Hollywood breakfast meetings (hence the fruit), and sitting on the table next to me, staring in disdain at my atherosclerotic future, was none other than Kevin Smith. He seemed to be discussing the idea of Dogma 2, which, 15 years later, has failed to materialise. Nevertheless less, I loved those pancakes.
I think that the key to a lot of recipes is having the simple knowledge of how to get the tricky bit done without needing to think about it. Anyone jonesing for a full-on American pancake stack might be halted at the point of 'I can't remember how to do the batter.' Thankfully, one day, Jamie Oliver solved that for me, and I now make pancakes with impunity. In this edition, I had home-cured bacon to hand too, so this was an extra special treat.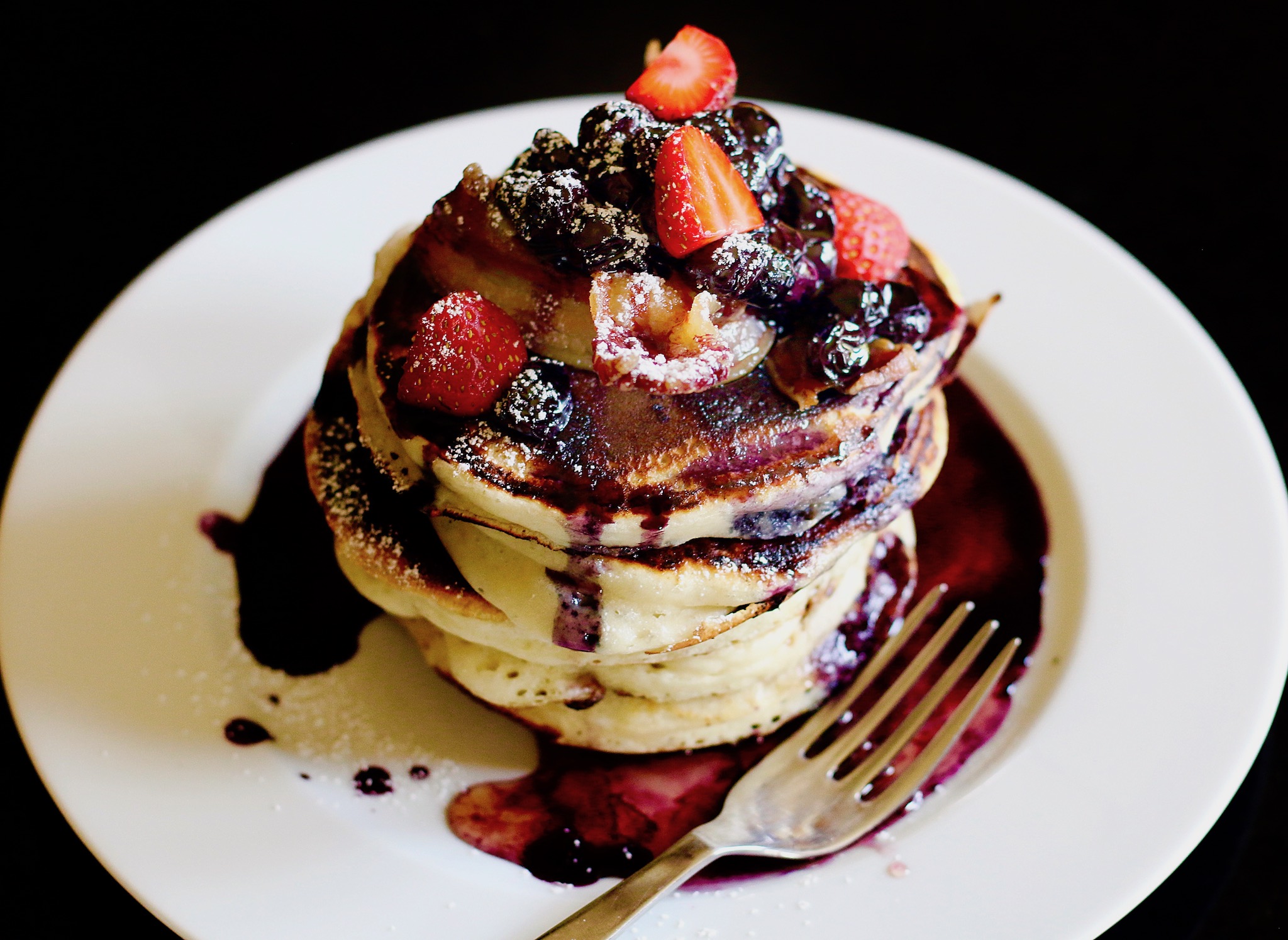 Print Recipe
Ingredients
1 mug of self-raising flour

1 mug of milk

1 egg

Pinch of salt

(That is the batter bit. How easy is that?)

However much bacon you fancy (2 rashers per person is enough)

Two handfuls of mixed, fresh berries

Caster sugar

Water

Maple syrup

Icing sugar

Kevin Smith
Instructions
1
Start by whisking up the flour, milk egg and salt until smooth with no lumps. Leave to stand in a jug while you ...
2
Fry off the bacon until crispy and keep warm in an barely on oven. Clean the pan (don't use detergent), ready for the next bit.
3
Mix sugar and water 1:1 v/v in a frying pan and heat until the water is dissolved. You need about 3 tablespoons of each.
4
Add the fruit to the pan, reduce the heat and gently stew the fruit in the syrup.
5
While the fruit is stewing, cook the pancakes. Heat another pan and wipe the inside with a oil-soaked kitchen paper (you need some, but not much oil for pancakes). Spoon in a small ladle of batter. Leave it until you see bubbles form on the surface. Flip, and cook the other side. Repeat with the rest of the batter and keep them warm in the oven.
6
To assemble the dish, stack up the pancakes, balance the bacon and fruits on top, drizzle with the pan syrup, drizzle again with maple syrup, and dust with icing sugar.
Notes
The frozen mixed 'forest' berries from the supermarket are fine for this, but I can never understand why there are sometimes grapes in there.