This dish adds a bit of luxury to a health-kick diet. It may use cream and butter, but it stands on its own without carbs (therefore keto) due to the hefty application of spinach and mushroom. I also add fresh oregano from my garden to give it some aromatic life. If this dish has an origin, then it is a collision of France and Italy on my own stovetop. Enjoy.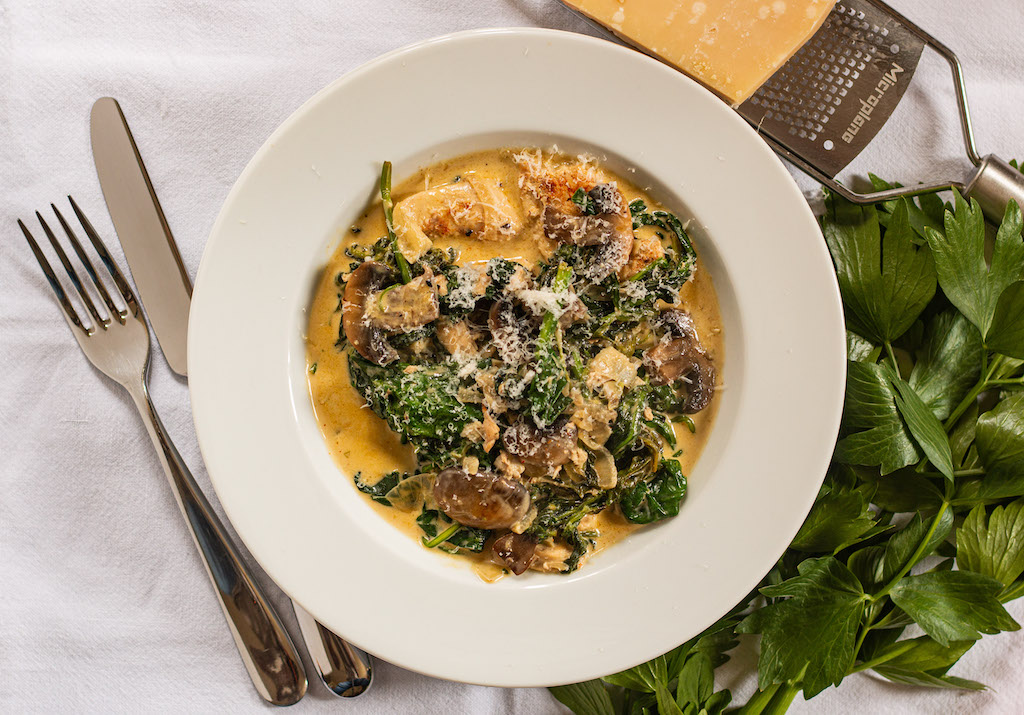 Print Recipe
Creamy chicken with mushrooms and spinach
Ingredients
4 chicken breasts, cut into chunks

1 onion, chopped

4 tbsp butter or ghee

220g mushrooms

1 handful fresh oregano, picked

200g spinach

200g Parmesan,grated

250ml double cream

2 cloves garlic, minced

Sea salt, freshly ground black pepper and paprika (triple seasoning)
Instructions
1
In a large frying pan, fry the chicken with the butter until browned. Season with all three seasonings (go easy on the salt as Parmesan is going in later). Continue cooking the chicken until it is cooked through. Remove the chicken to a plate. Keep warm.
2
In the same pan, fry the onion, garlic and mushrooms until soft. Add the oregano, cook for a minute and then add the spinach. Cook until the spinach wilts.
3
Add the cream, simmer and then add the Parmesan. Return the chicken to the pan, mix through, simmer for a couple of minutes and adjust seasoning as needed.