This simple fish dish features plenty of authentic principles of Filipino cooking. Rice is always present, and is cooked traditionally here. The quick dipping sauce of vinegar and soy sauce known as sawsawan (translates as 'condiment') is almost ubiquitous in Filipino cuisine and is used as a flavour enhancer for everything from egg plant to meat and fish. The example given here has onion and chilli added to make a kind of salsa. 'Samonete' is the Filipino word for red mullet, and is borrowed directly from Spanish.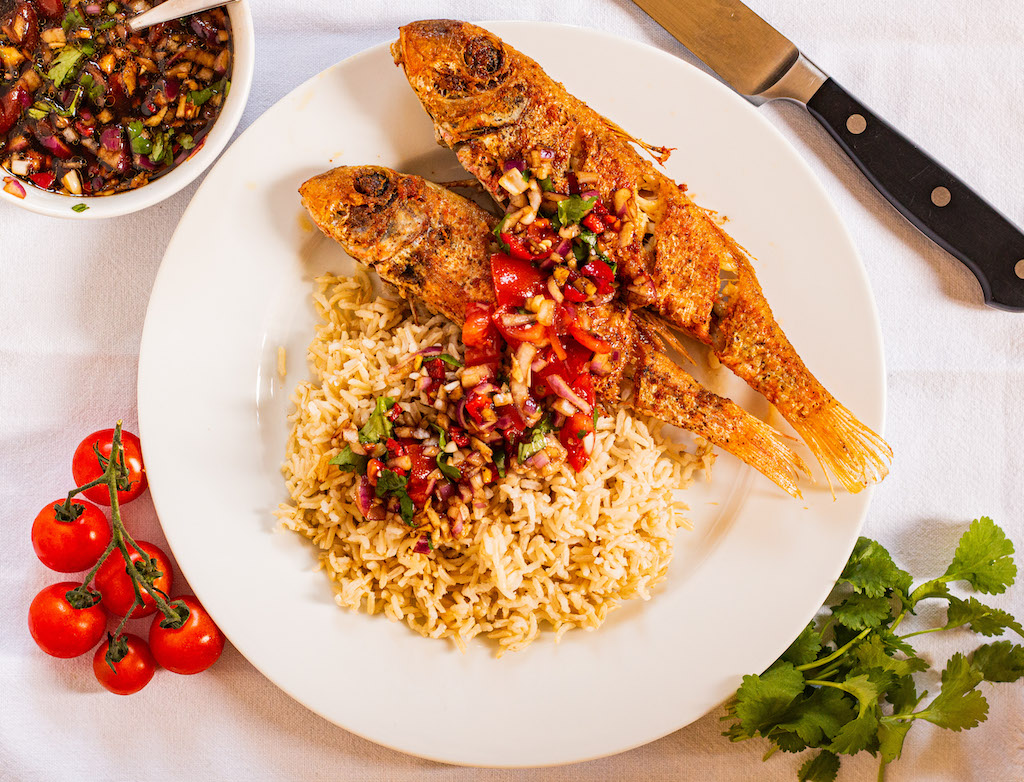 Print Recipe
Salmonete na may sawsawan
Ingredients
For the rice:

140g basmati rice

For the fish:

2 tbsp sunflower or groundnut oil

4 whole red mullet, gutted

4 tbsp plain flour, seasoned

For the sawsawan:

50ml soy sauce

50ml Datu Puti sukang maasim vinegar

1 chilli, chopped

1 tsp fresh ginger, chopped

1 tbsp coriander, chopped

4 cherry tomatoes, chopped

Half a red onion, chopped

Pinch of brown sugar

Freshly ground black pepper
Instructions
1
Wash the rice in a small pan three times with fresh water, ticking with your fingers and draining by holding the rice back with your hand (no sieve). Add water using the 'first-knuckle' method whereby a fingertip touched to the rice is covered with water to the first joint of your finger. Bring to boil and cook on low with a loose lid (~70% covered) for 15 mins. Remove from heat, lid fully, and rest for 10 mins.
2
Slash the fish three times on each side and roll in the seasoned flour. Heat a frying pan on high with the oil. Fry the fish on both sides until cooked a crispy (about 10 mins).
3
Combine all the ingredients in a small bowl and season with black pepper. Adjust any ingredients to taste.
4
Portion the rice on the lower half of the plate and place the fish on the upper half. Spoon over the salsa.