Here we go. Haggis is not Scottish. Or rather, haggis is very probably not Scottish. Haggis appears to have originated as a means of rapidly preserving offal from freshly killed animals. When an animal is slaughtered for food, the actual meat can hang for a few days to mature, and can then be pickled, salted or just plain cooked. Offal, on the other hand, goes off very quickly. In an effort to minimise waste, both the Romans and the Vikings were known to chop up offal, stuff it in the caul (stomach or womb) of the animal and boil it up to enable it to be eaten as a rudimentary sausage for a few days thereafter. Tellingly, the Viking word to 'chop' is 'haggw.'
In his 2019 article in History Today, Alexander Lee synthesises many of the origin stories of haggis and comes up with a credible sequence of events that ends up with everyone thinking that haggis is Scottish.
In the Lee version of the tale, The Romans and the Vikings were making offal sausages in caul exactly as described above. Given that both these warrior lineages had a penchant for invading other territories, and being promiscuous with their cuisine and traditions, the idea of stuffing lungs, hearts, testicles and arseholes into a stomach and boiling it went viral across Europe.
It was the increased prosperity of Europe after the Middle Ages that pushed haggis northwards. In the British Isles, England had done well at sea and was riding high on trade and Empire. Scotland, on the other hand, was in economic reverse, and the common populace were still eating foodstuffs that the English had long since forsaken. Among these foods that marked the northern border were porridge oats (horse food) and haggis (trash food).
The Scottishness of haggis was finally nailed to the post in 1822 when Sir Walter Scott entertained King George IV with an event that pulled every forgotten fantasy of Scotland and laid it before the King like it was an every day thing. Among the traditions that were invented that day were the wearing of tartan and the eating of haggis.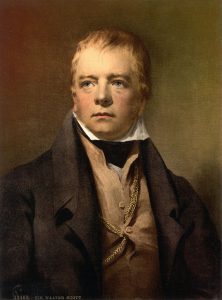 Haggis can be an acquired taste for some, but if you are prepared to forget what is in it, then it is a very nice thing to eat. Its problem is quantity, As a main dish item, haggis is incredibly dense, and the tradition of serving it with mashed potato and mashed turnips (neeps an' tatties) does nothing for its aesthetic or digestibility. I enjoy haggis, but in small quantities. It is very nice as a fried garnish on venison steak, but its great party trick is as a 'bon bon' canapé. Here the haggis comes into its own as a lovely treat. We serve it with a mustard and mayonnaise dip spiked with Scotch whisky.
Print Recipe
Ingredients
For the dip:

75g mayonnaise

2 tsp mustard (wholegrain or Dijon)

30ml Scotch whisky

Sea salt and freshly ground black pepper

For the bon bons:

450g haggis

50g plain flour, seasoned

2 eggs, beaten

100g breadcrumbs

2 tsp paprika

2 tbsp Parmesan, grated

Sea salt and freshly ground black pepper
Instructions
1
Combine all the ingredients in a bowl. Season and refrigerate.
2
Break up the haggis and roll into about 24 bite-sized balls (~18g each)
3
Combine the breadcrumbs, paprika and Parmesan in a bowl, and prepare the seasoned flour and beaten eggs in each of a further two bowls.
4
Sequentially roll each ball in flour, egg and crumbs to coat fully.
5
Heat a fryer to 190˚C and fry the bonbons until golden (2–3 mins). Drain, and blot on kitchen paper and cast over with a little salt and pepper.
6
Serve the bon bons warm with the whisky mayo dip.