Sauce chatcutière is a daughter sauce of sauce Robert, whereby julienned pickled gherkins are added to the parent preparation. In turn, sauce Robert is one of the oldest sauces in classic French cooking, and is an absolute classic accompaniment to grilled pork.
Sauce Robert is incredibly old. In the early 19th Century, chef hat and vol au vent inventor Marie-Antoine Carême (1784–1833) nerded out by categorising the 78 sauces of le grande cuisine. Notably, of those 78 sauces, only two appear in any earlier cooking texts – these were sauce Robert and remoulade. In fact, sauce Robert makes its first appearance in Guillaume Tirel's (1310–1395) Le Viandier, which was written in the early 14th Century when Tirel (aka 'Taillevent') was master cook to none other than Charles V of France, and is considered by many to be the first professional chef in the world. In Taillevent's book, sauce Robert appears as 'Pastes de poules a la saulce robert,' but without a method for the actual sauce.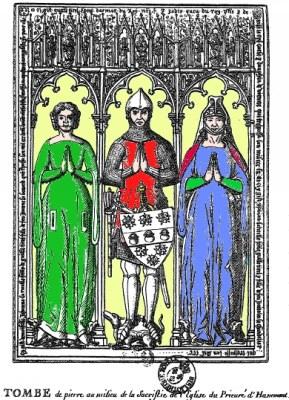 The origin of sauce charcutière is not recorded, but it appears in Auguste Escoffier's 1903 Le Guide Culinaire. As described above, sauce charcutièire is a daughter sauce of sauce Robert. Sauce Robert is a daughter sauce of demi-glace, which is, in turn a daughter sauce of espagnole. This makes sauce charcutière the great grand-daughter of espagnole. Making a proper French demi-glace at home is a huge headache, so we have produced a simplified recipe for home cooks here.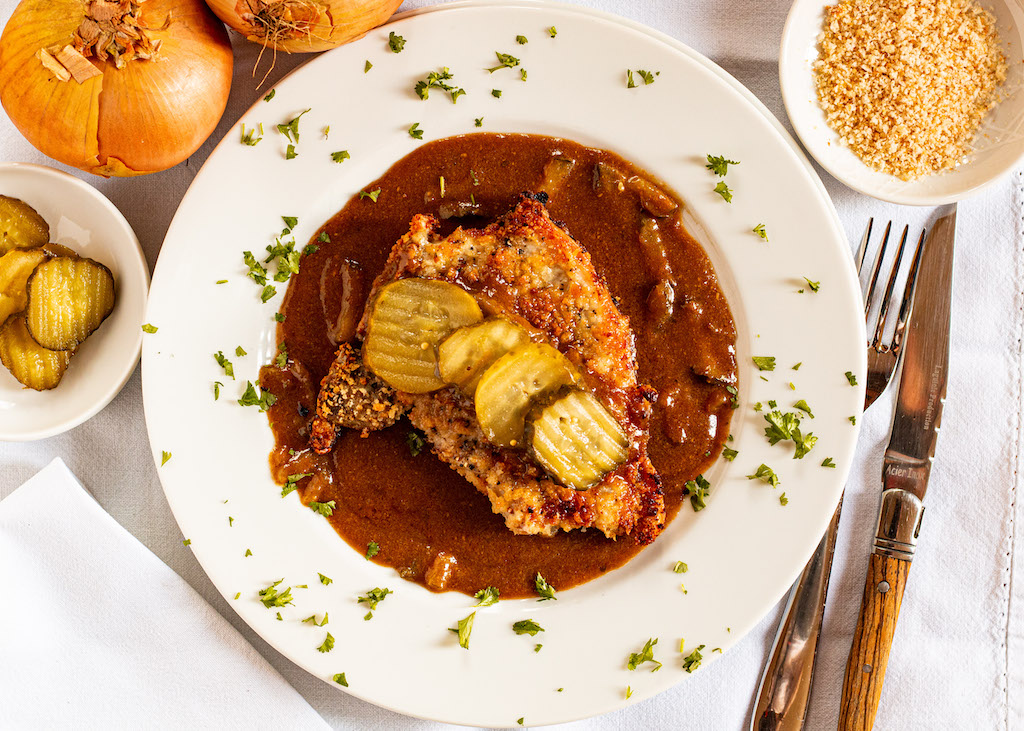 Print Recipe
Ingredients
For the pork:

1 tbsp oil

4 pork chops, rind removed

50g butter, melted

2 good handfuls of breadcrumbs

For the sauce charcutière:

75g butter

2 onions, finely chopped

400ml white wine

600ml demi-glace (requires prep; see article above)

Pinch sugar

2 tsp English mustard diluted with a little water

100g pickled gherkins, julienned

Sea salt and freshly ground black pepper
Instructions
1
Flatten the pork chops a little with a meat hammer. Season with pepper and salt in that order. Drag through the melted butter and then the breadcrumbs to give a light coating.
2
Heat a grill to medium and gently grill the pork on both sides until golden and cooked through (about 15 mins).
To make the sauce charcutière:
3
Gently fry the onions in the butter until soft without colouring. Add the wine and reduce by two thirds. Add the demi-glace and simmer for 10 mins. Strain the sauce through a sieve and pass (press with the back of a spoon through the mesh) as much of the cooked onion as will go through quite easily. Off the heat, add the sugar, mustard and gherkins.
4
Serve the pork in the centre of a plate and spoon the sauce around. Consider pomme puree and carottes à la Vichy as sides.