History class is cancelled for today. This recipe comes from my mother. In turn, she got it from that monument to 'busibodyness,' that is the school PTA charity cook book.
When I was little, one of the three primary schools I attended was Whinmoor St Paul's Church of England Primary School in Red Hall, Leeds. One of the school's popular fund raising activities was the annual charity cook book for which parents would submit recipes for inclusion.
At the time, Mum was not working (there were three of us to look after), so she used to bake – a lot. There was never a week without a cake in the house, and this apple tray bake was one of the ones I liked the most.
We may see a few more of Mum's cake recipes here because I have decided to make all of them so the lovely recipes of my childhood are not lost.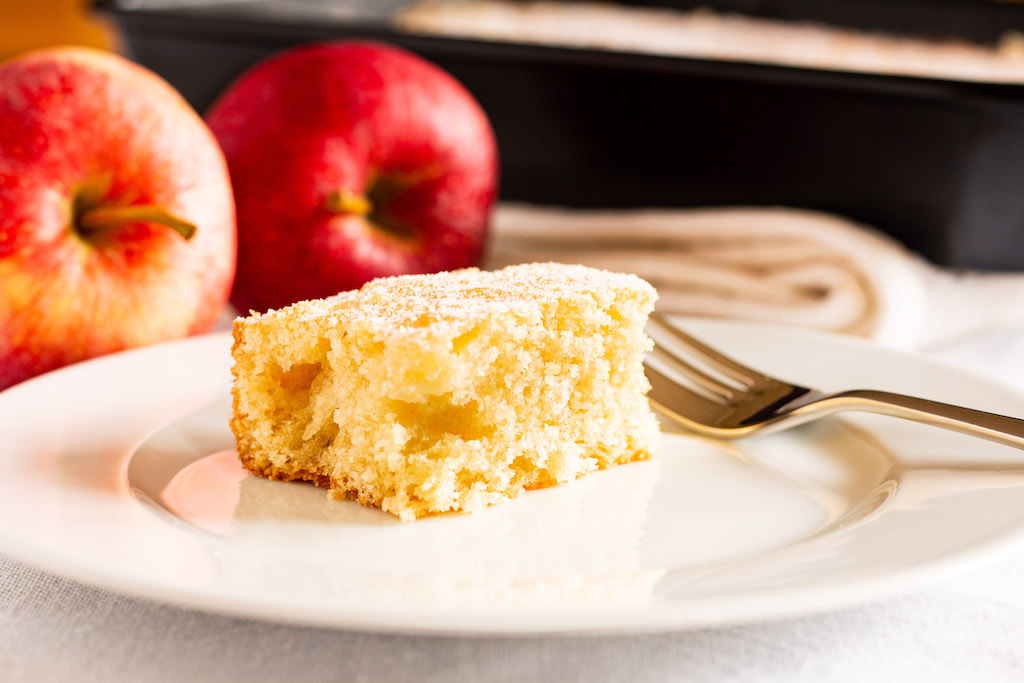 Print Recipe
Ingredients
115g butter (the original calls for margarine, but that is now evil)

115g caster sugar

1 large egg

230g self-raising flour, sifted with a pinch of salt

One 225g (approx) Bramley apple, peeled, cored and roughly chopped

4 tbsp milk
Instructions
2
Grease a 16x30cm brownie tin with a little butter. Cream the rest of the butter in a stand mixer until soft, and then then beat in the caster sugar until fluffy and light in colour.
3
Beat the egg then add it to the mixture and combine with the mixer.
4
Add the flour, apple and milk, and beat again with the mixer. You will have a very stiff batter.
5
Spread the mixture evenly in the tin, Cook in centre of the oven for 20-25 minutes until golden brown.
6
Remove the cake from the oven and immediately sprinkle with caster sugar. Allow to cool fully in the tin before cutting and lifting out.