The origin of peach Melba is well documented. The dish was invented by French chef impresario Auguste Escoffier at the Savoy hotel, London in 1892 in honour of Australian soprano Nellie Melba. Melba was performing a Wagner opera in Covent Garden; and the Duke of Orléans – so enchanted by Melba's performance – threw a dinner party in celebration of her general magnificence.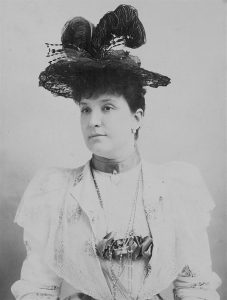 On the day, the dish was served to the table in an ice sculpture of a swan and covered over with spun sugar. Once at the Carlton hotel, Escoffier simplified pêches Melba by getting rid of the obviously awkward swan and swapping the sugar out for raspberry purée. When Escoffier came to compile his Le Guide Culinaire, it was the Carlton version he wrote down (thank God).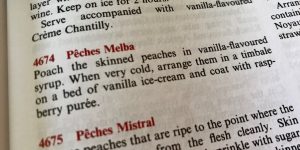 Now, I am sure that many cooks coming at this two-sentence recipe would know exactly what was going on, but Googling around so-called original Escoffier recipes for peach Melba yields many variations on the peach preparation. But, for true scholars of fruit molestation, the peach section of Le Guide Culinaire includes some 15–20 recipes, all of which give incremental clues on how to prepare peach Melba. Some of these recipes have sent other cooks down the wrong path entirely (e.g. sprinkle with sugar and stick them in the fridge to 'cure').
After an awful lot of fannying round, we concluded that the peaches are poached in vanilla syrup (which is 50/50 v/v of sugar and water with vanilla added to taste), and they they are blanched, peeled and halved before poaching. Halving them makes them cook better, enables them to balance on the ice cream more readily, and also avoids the obvious technosocial discomfort of chasing a whole, syrupy peach round a cream-lubricated glass dish while trying to get the stone out with a teaspoon.
In White Heat, Marco Pierre White has his own, way more complicated take on peach Melba that we are probably going to have a go at some time soon, but it is this recipe and Marco's description that adds the final piece of the puzzle: Escoffier put almonds on the top.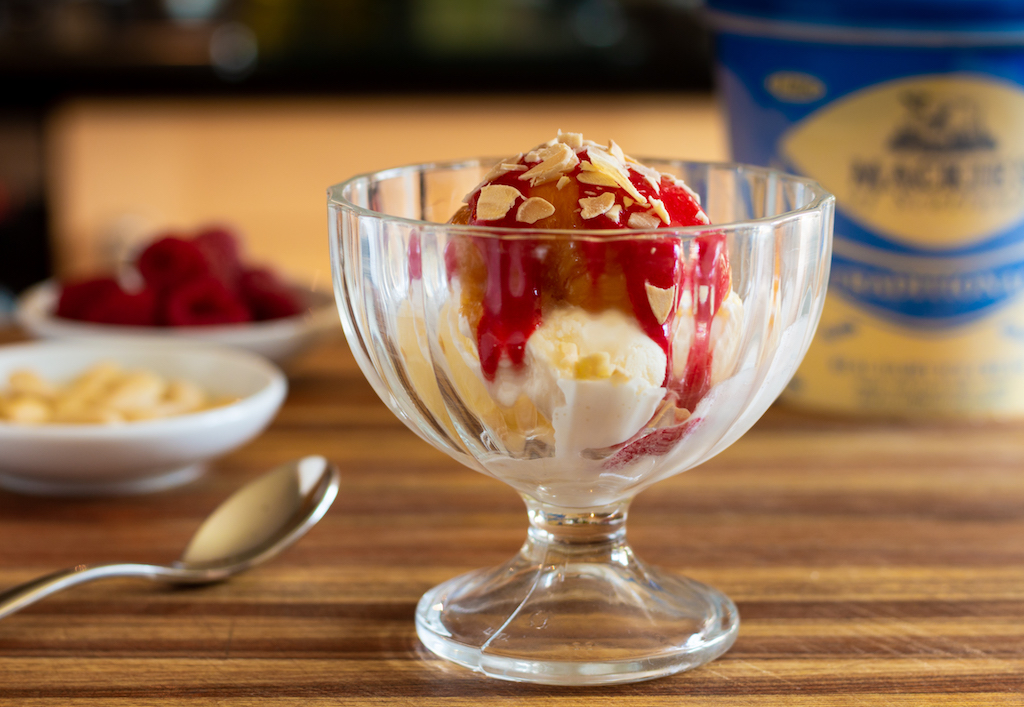 Print Recipe
Pêches Melba Auguste Escoffier
Ingredients
2 reasonably ripe-but-firm peaches (too ripe is a problem; it may help to add one more 'stunt peach' in case you damage one in the stoning step)

600ml volume caster sugar

2 tsp vanilla extract

225g raspberries

2tbsp icing sugar

4 large scoops of ice cream

Flaked almonds
Instructions
1
Begin by deciding how firm your peaches are. If firm, peel them with a speed peeler, cut them longitudinally, and prise the halves apart. Prise the stone from the half that retained it.
2
If the peaches are soft, then begin by blanching the peaches. Score the skins at the ends and blanch in boiling water for just 30 seconds. Plunge into iced water to stop the cooking. Carefully peel the skins. Then cut through the peaches longitudinally, twist to split them and ease the stone out by releasing the stalk end with a sharp knife. In all this, care need to be taken not to damage the smooth surface of the peaches, but also bear in mind you will be covering them over with raspberry purée, so don't have a fit if it does not go completely your way.
3
Mix the sugar in an equivalent volume of water and heat to dissolve. Add the vanilla, bring to a simmer and poach the peaches for abut 10 minutes until cooked (a sharp knife will easily penetrate the flesh). Lift the peaches into a bowl with a slotted spoon, ladle over some of the syrup and chill.
4
Make a raspberry purée by simply blitzing the raspberries in a blender with the icing sugar, and passing through a sieve to remove the seeds.
5
To serve, put some ice cream in a glass dish and place a peach half on top. Spoon over some raspberry purée and sprinkle with flaked almonds.