Chocolate fondant puddings are a relatively modern in invention. There is a claim from US-based, Alsace-born Jean-Georges Vongerichten that he made the dish by accident in 1987 while working at his eponymous restaurant in the Trump International Hotel and Tower. As a product of under-cooking a cake, the chocolate fondant pudding is almost certainly the result of an error, but this error is likely to have been made many times over before Vongerichten set his oven too low that day in 1987.
Indeed, there is a second claim from triple-Michelin-starred Michel Bras of Laguiole, Averyron, France, who describes a 1981 method of placing frozen ganache in the centre of a cake mix, and baking that off such that the ganache defrosts in the middle without cooking. It is this method that was made famous to many in the Jon Favreau movie Chef, in which the lead character (played by Favreau) has a mid-service meltdown and smashes a Bras-style 'chocolate lava cake' all over the table of a restaurant critic.
When we were looking for a dessert to make up a trio of dishes for Valentine's Day 2018, we kept coming back to the idea of chocolate. Critically, we needed a chocolate dessert that appears to be difficult to do, but is actually a colossal technical cheat. As far cheating at chocolate goes, the chocolate fondant pudding is even more of cheat than Diego Maradona's infamous 'hand of God' goal against England in the 1986 FIFA World Cup.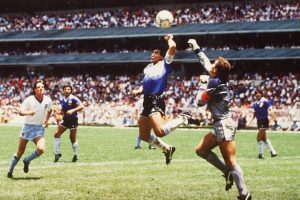 Essentially, all you need to do is make a cake batter, put it in a greased mould and massively undercook it. We have already covered chocolate fondant puddings in Andrew's dinner party version with beetroot ice cream and beetroot candies. That, however, is a multi-part recipe that involves more than a day of prep. The version on this page is lighter, quicker and easier. It also uses less kitchen equipment, has a convenient mise en place, and requires almost no cooking skill.
Just don't tell your partner. In fact, you could use the words of Maradona himself who said of his goal, "Come hug me, or the referee isn't going to allow it."
This recipe is lightly adapted from that of Ben Ebbrell of Sorted Food.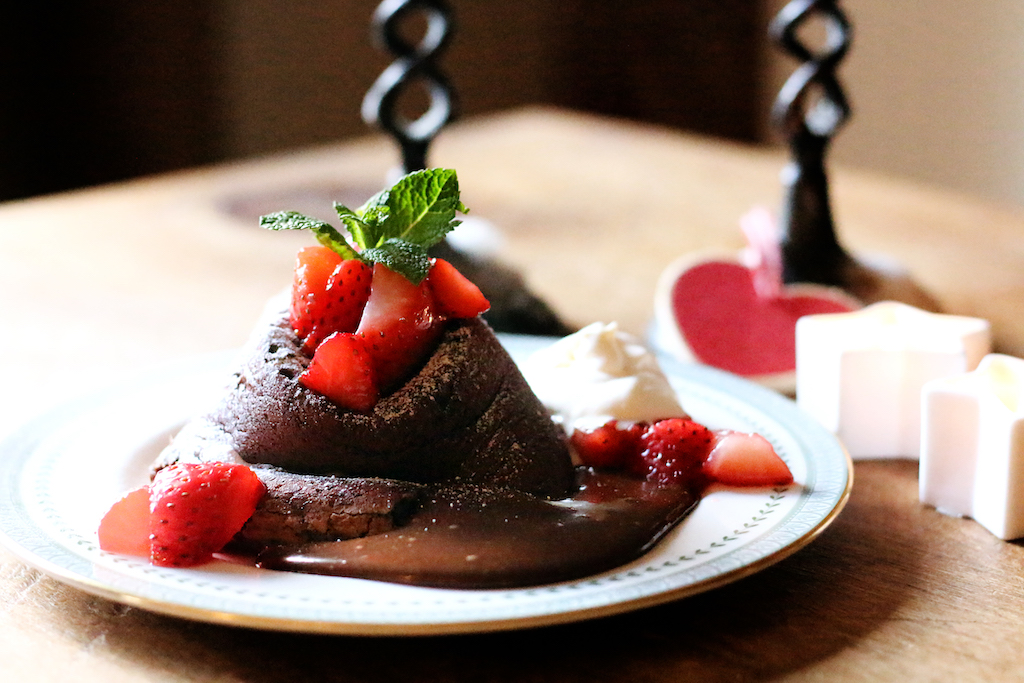 Print Recipe
Chocolate fondant puddings with strawberries and chantilly cream
Ingredients
For the chantilly cream:

60ml double cream

1 tbsp caster sugar

A few drops of vanilla essence

For the puddings:

120g dark chocolate, split into chunks

120g unsalted butter, cubed plus extra for greasing the moulds

120g caster sugar

2 whole eggs, beaten (which is 120g – see a theme here?)

30g plain flour, sieved

Cocoa powder

Half a tsp salt

For the sauce:

1 handful of fresh strawberries, hulled and cut into 1–2cm pieces

3 tbsp caster sugar

To serve:

Icing sugar

2 sprigs of mint
Instructions
1
Preheat the oven to 200°C.
2
Start by making the chantilly cream because it will be best to chill this to create a contrast with the warm fondant. Use a mechanical whisk to combine the cream, sugar and vanilla until the cream forms soft peaks. Take care not to over-whisk. Chill the cream in the fridge.
3
Make the puddings. Brush the inside of two small (150–200ml) dariole moulds with melted butter, dust the insides with a coating of cocoa powder, and place the prepared moulds into the fridge. Consider preparing a third mould in case you have a handling error later on.
4
Melt the chocolate and butter in the microwave in two bouts of 30 seconds until barely melted. Melt any remaining lumps with the residual heat in the bowl.
5
Mix the egg, sugar and salt. Add the chocolate to the egg in thirds and fold in. Whisk in the flour.
6
Fill the moulds to three quarters level (you will have some left over, but it pays to make a full batch) and bake for 12 minutes. Note that you can leave the chilled, filled moulds in the fridge until you need to cook them, but you must bring them up to room temperature before putting them in the oven. Oven timings may vary for bigger ramekins; look at the top of the pudding – they should bounce in the middle, and the puddings should just have started to come off the sides of the mould. You certainly will not be going beyond 14 mins
7
To make the sauce, put the strawberries and sugar in a frying pan, and add a 3–4 tablespoons of water. Cook the fruit over a low heat until soft in a syrupy sauce. Add more water if needed, or get creative and lob in some framboise.
8
To serve, turn the puddings out onto plates (you may need to ease them with a knife, but be very careful), spoon over the sauce and drizzle it around a little. Add a blob of the chantilly cream, dust over with icing sugar and add a sprig of mint for colour.
Notes
Note that this recipe is sized for 4 portions, but you cannot halve it for 2 or you lose too much material to liquid handling. Keeo the remaining batter for another day (use within the week). Wine pairing: Pairing wine to chocolate is difficult, and pairing to this particular dish is even harder. Most experts agree that Pedro Ximenez sherry is the way to go. Waitrose do a 750ml bottle of Delicado PX sherry for £12.00.