As you ski up to any mountain restaurant in the French alps, you can be sure that there will always be tartiflette on the menu. Tartiflette is a rich dish of potatoes, bacon, onions and tonnes of hot, melted reblochon cheese. It is one of these dishes that only makes sense when it is freezing cold outside.
I would love to say that there was some kind of fascinating back story to tartiflette involving ancient kings, a complicated war, and a good, old-fashioned kitchen accident. However, just like fondue before it, tartiflette does not have any provenance at all – it was invented by a group of cheese producers as a means of shifting stock. Thankfully, unlike the psychotic Schweizerische Käseunion, the benevolent Syndicat Interprofessionnel du Reblochon did not set out to destroy everything and everyone in its path in the name of cheese sales. Instead, they gave us a tasty winter dish that they named after the 'tartifle' potatoes grown in the Savoie. In contrast to the Swiss, the French did not wilfully send hundreds of cheese producers to the wall.
The sheer simplicity of tartiflette goes a long way to explaining is popularity; and although the dish is quite a youngster in food history terms, cooks all over the Alps and beyond have developed slightly different ways of doing it. Le Syndicat Interprofessionnel du Reblochon have a section on their web site that covers what should and should not be in a tartiflette, and The Nosey Chef was happy to find that the recipe given in Larousse Gastronomique was faithful to the Syndicate's instructions.
Reblochon cheese can be obtained all over France. In the UK you need to rely on Waitrose or Ocado, where it comes as a half cheese. You will need two of these to do a full 4-person recipe of tartiflette.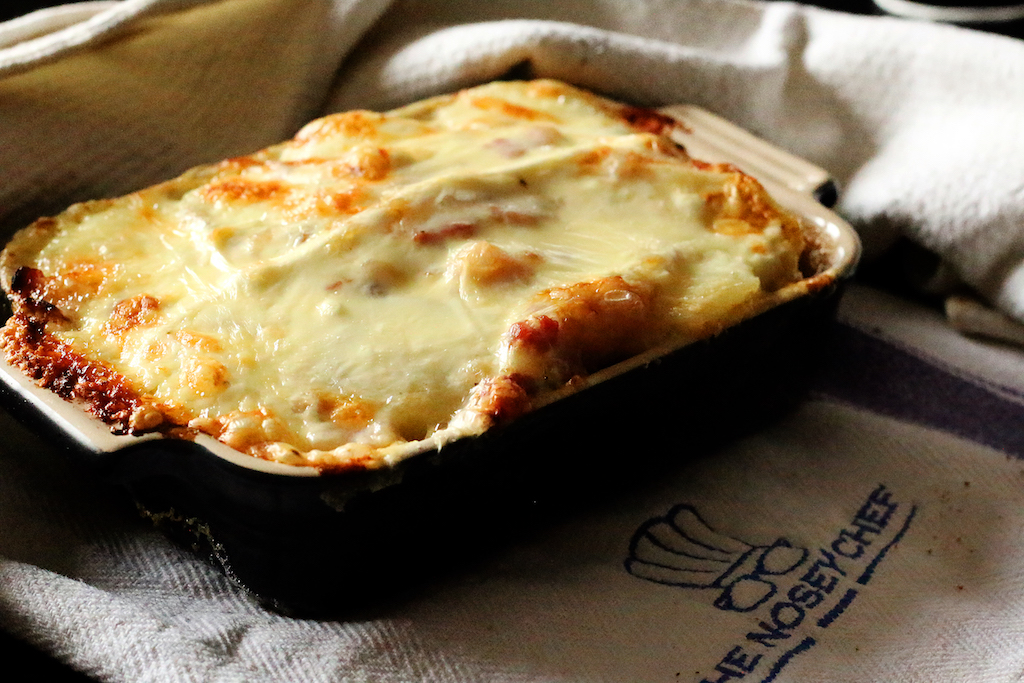 Print Recipe
Ingredients
1.2kg potatoes, peeled and halved

1 tbsp neutral oil

200g smoked bacon lardons

1 onion, finely chopped

1 glass of dry white wine (get something from the Savoie if you can)

2 tbsp creme fraiche

One whole reblochon cheese cut equatorially

Butter for greasing

Salt and freshly ground black pepper
Instructions
1
Preheat an oven to 220˚C.
2
Boil the potatoes until done take care not to over boil them as they will get baked later on. Allow them to cool and then slice them into rounds.
3
While the potatoes are on, heat the oil and sweat down the onions on a low heat until soft. Add the bacon and cook until it just starts to gild.
4
Grease a gratin dish with butter. Add a layer of potato, and then half the onions and bacon. Season lightly. Add another layer of potatoes, another of bacon and onions and season lightly again.
5
Pour in the wine and spread the creme fraiche over the top. Put the reblochon pieces on top, rind side up.
6
Put the gratin dish on a baking try to catch any drips, and bake in the oven until golden (about 20 minutes).
7
Serve while boring everyone with your ski stories.
Notes
A vegetarian version of tartiflette can be made by swapping the bacon out for mushrooms.