I knew at the outset of Nosey Chef that there would be a day when I made chicken tikka masala, and I also knew that when I did it, my research would drop me straight into a cauldron of claims, counterclaims, spite, vitriol and pompousness. The very first hit on Google revealed that the Scottish Government has waded into the debate on where chicken tikka masala comes from, so it is my duty to sift through this and bring some perspective to the situation.
Let's start at the beginning. Chicken tikka masala is a curry. Indians don't really call their food 'curry.' Indian people living in India eat a range of foods that are very often spiced with complex and clever blends of ingredients. In pursuit of spice, and in particular nutmeg, the British underwent a complex trade and shooting war with the Dutch. In order to secure a foothold in the spice trading regions, Britain, with its peculiar semi-governmental, part-piratical East India Trading Company, did a series of deals with ambitious Indian leaders to enable the UK to govern India by stealth. The stealth was gradually eroded, and in 1857, Queen Victoria was crowned Empress of India, and the East India Trading Company was dissolved the following year. It was not until 1947 that India regained its independence from the UK.
During that time, those British lucky enough to have been stationed in India grew to like the local food. They often asked their cooks and chefs to make up a spice mix to take back to Britain so that their cooks in London could rustle up a 'kari,' which just means 'sauce.' In many cases, this spice mix was known as 'kari powder,' or 'curry powder,' which is essentially unknown in India.
Once back in the UK, cooks and chefs started making curries according to the British tastes of the day. The essential and defining characteristic of the British curry is that it is a slightly sloppy affair, designed to go with a load of absorbent rice – rather like a gravy. This is in contrast to the drier dishes made in India, Nepal and Pakistan whereby the food it often eaten on its own, or picked up with a chapati or similar. Various amounts of chilli are added to a basic sauce to make the whole range of hot sauces from mild masala all the way to arse-burning vindaloo.
This is the genesis of British Asian cuisine, and for all the mockery levelled at it (Larousse is particularly vitriolic), it is impossible to deny that it does not have an etymology all of its own. Curry is now the de-facto national dish of the UK, and the most popular edition by far is the chicken tikka masala.
Trying to dissect where chicken tikka masala came from is like trying to separate chewing gum from wet tissue paper. If we accept that chicken tikka masala is tandoor-cooked, marinated chicken (murgh tandoor tikka) slavered in a masala sauce, then there are a bunch of claimants to its invention:
Claim 1. Rahul Vermu, writing for The Hindu, says that he ate chicken tikka masala in the Punjab in 1971. He also says that the dish is about 50 years old, and keeps changing. This claim would make chicken tikka masala an authentic Indian/Pakistani dish, with an essentially undefinable recipe.
Claim 2. Bangladeshi restaurant owners from Glasgow came up with it. Amid the Glasgow claim is a very specific (and therefore probably bullshit) story in which a bus driver coming off shift went into the Shish Mahal restaurant in the west end of Glasgow and ordered a chicken curry. He sent it back to the kitchen complaining that it was dry. At the time, the father of the chef Ali Ahmed Aslam had a stomach ulcer and was tucking into a bowl of Campbell's condensed tomato soup. Aslam put some tomato soup into the curry with some spices. He sent it back to the bus driver, who apparently loved it. He and his friends came back again and again and Aslam put the dish on the menu. This tale comes from a 2013 episode of the Hairy Bikers, and Salam said that this event occurred in 1971.
Claim 3. A 1961 book by Mrs Balbir Singh includes a recipe for shahi chicken masala, which food historians Peter and Colleen Grove describe as 'the shape of things to come,' which suggests that the Singh recipe is essentially chicken tikka masala.
In 2009, Mohammad Sarwar, the Labour MP for Glasgow Central, tabled an early day motion in the House of Commons to attempt to secure EU Protected Designation of Origin status for the chicken tikka masala as Glaswegian. The campaign was backed by Glasgow City Council. The motion was rejected, and Mr Sarwar does not really like to talk about it any more. He left the UK and is now a senior politician in the Punjab, which has a kind of irony to it. The attempt to designate chicken tikka masala was completely ridiculous – the dish uses a 5,000-year old cooking method and ingredients that do not originate anywhere near Glasgow, and the so-called 'original' was no more clever than tipping a can of soup over some chicken. As of today, there are about 50 'original' recipes for chicken tikka masala, and none of them are remotely similar. In fact, the only common ingredient in all of them is the chicken.
As to the Nosey Chef verdict on claims to the origin on chicken tikka masala, I would be inclined to say that it was invented in the Punjab in the 50's, it was written by Singh in '61, and the Glaswegians independently invented their own version using soup because they had not been to the Punjab nor read Singh's book.
The recipe here is a combination of the original murgh tikka masala invented in Peshawar, Pakistan in the 1940s by Kundan Lal Gujral, and a masala sauce adapted from Felicity Cloake with the teachings of Atul Kochhar added into it. The whole gig acknowledges that most British kitchens do not have a tandoor oven.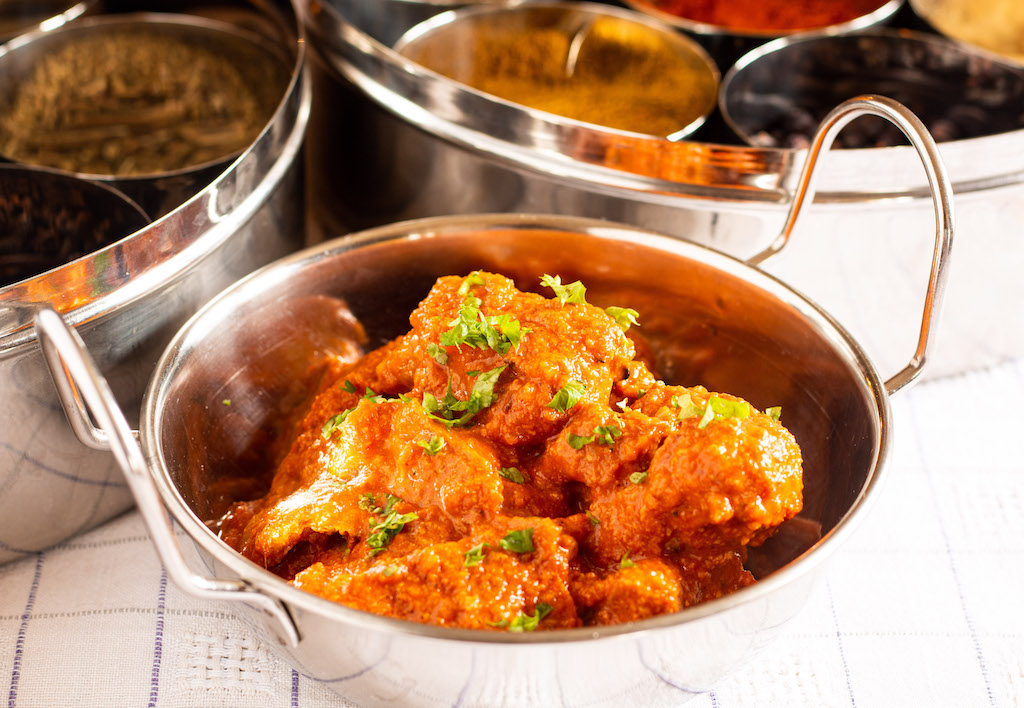 Print Recipe
Ingredients
For the chicken tikka:

680kg boneless skinless chicken, cut into 3cm chunks

1.5 tbsp fresh lime juice

1.5 tsp sea salt

1 teaspoon Kashmiri chilli powder (see notes)

6 tbsp plain yoghurt (do not use Greek-style yoghurt for a marinade – it will split when cooked)

2 tbsp ginger-garlic paste

2 tsp garam masala

Half a tsp ground fenugreek

For the sauce:

2 tbsp ghee or neutral oil

6 green cardamom pods

1 2cm cinnamon stick

4 cloves

2 small onions, chopped

4 tbsp garlic ginger paste

400g chopped tomatoes

1 tbsp tomato puree

2 small green chillies, split lengthways and deseeded

1 tsp sugar

50ml double cream

1 tsp paprika

Half tsp fenugreek leaves, ground

1 tsp garam masala

1 tbsp lemon juice

1 small handful of coriander leaves, as a garnish
Instructions
1
Begin by making murgh tandoori tikka – this can be done in advance up to 3 days before you make the rest of the dish
2
Combine the lime juice and salt in a bowl large enough to hold all the chicken pieces. Add the chicken and toss to coat evenly. Cover and refrigerate for 1 hour.
3
Add the chilli powder, yoghurt, garlic, ginger, garam masala and fenugreek, tossing well to coat and distribute evenly. Cover and refrigerate for 3 hours.
4
Preheat the oven to 250˚C.
5
Thread the chicken pieces onto skewers, season with a little more garam masala or fenugreek if desired. Roast on the middle rack for 5 to 6 minutes. Baste with a little oil and continue roasting for 3 to 4 minutes.
6
Check if the chicken is done by cutting into one of the larger pieces. If it is still pink in the middle, roast for another 3 to 5 minutes and check again.
7
To make the sauce, heat the fat in a frying pan over a medium-high heat and add the whole spices. Toast oil the spices crack. Add the onions, and fry them until soft and golden brown, stirring regularly.
8
Stir the garlic ginger paste into the onions and fry for a couple of minutes, stirring, then add the powdered spices and fry for a minute or so. Add the tomatoes, tomato puree, 300ml of water and the sugar. Bring to a simmer, turn the heat down to medium and cook until reduced slightly.
9
Puree the sauce until smooth and pass through a sieve to remove any shards of spice. Once the chicken is done, return the pureed sauce to the pan on a medium heat. Stir any remaining marinade into the sauce, along with the chillies and cream. Add the prepared chicken and cook for about five minutes. Adjust seasoning.
10
Serve with chopped coriander garnish.