Pollo alla cacciatore translates from Italian as 'hunter's chicken.' While Italian in origin, this dish can be found on countless mid-range pub menus in the UK, probably because it is insanely easy to make, can be left for way longer than its proscribed cooking time and is very satisfying.
The origin of pollo alla cacciatore is a bit murky. Jamie Oliver (whose recipe we have adapted here) suggests that it may have been cooked at home by a hunter's wife so he would have a ready pot of hot food on his return from the woods. In reality, the dish probably dates from the Renaissance period (1450–1600) when the only people able to afford chicken were the rich. The toffs would go hunting in the day and spend some time foraging mushrooms and herbs to chuck at the chef on their return. Importantly, if pollo alla cacciatore is a Renaissance dish, then its invention co-incides with the arrival of tomatoes in Italy in the early 16th Century. This co-incidence of tomato availability, aristocratic herb foraging and expensive poultry leads me to believe that pollo alla cacciatore is a lot posher than Mr Oliver seems to think.
Pollo alla cacciatore is invariably served with big chunks of crusty bread. Ciabatta is the obvious accompaniment if you don't have access to a wide range of Italian breads. Many supermarkets sell part-baked ciabatta, which will give you a superior result.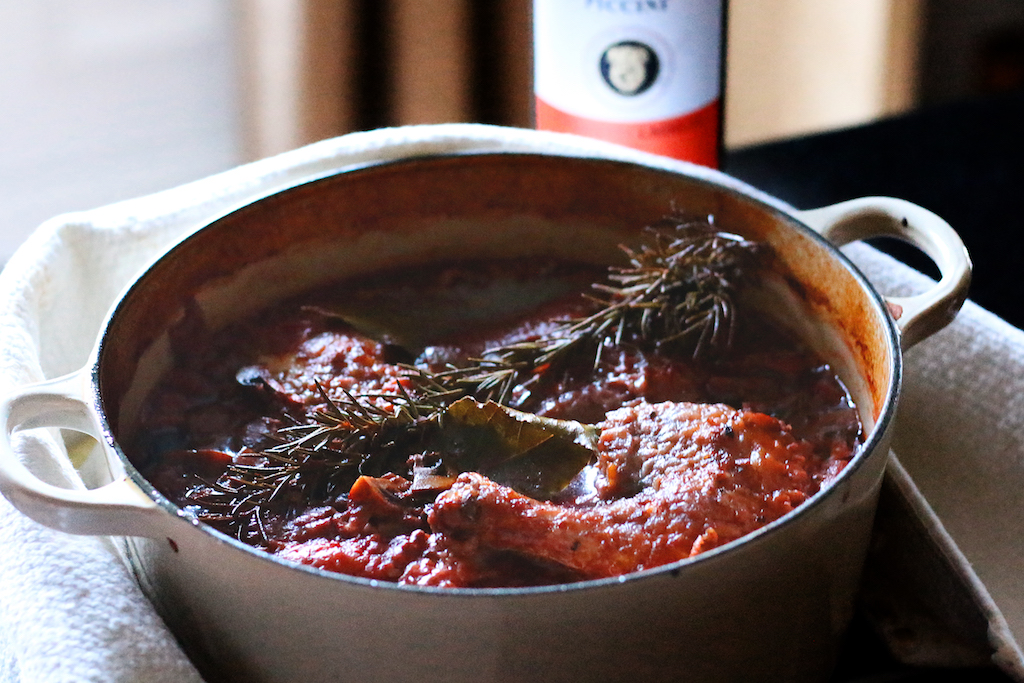 Print Recipe
Ingredients
1 chicken, jointed

4 bay leaves

1 sprig fresh rosemary (you can leave the leaves on the stem)

2 cloves garlic, peeled (1 crushed and 1 sliced)

250g field mushrooms, sliced

200ml Chianti

Flour for dusting

1 tbsp extra virgin olive oil

3 anchovy fillets

1 handful green or black olives (or mixed), stoned

400g tinned plum tomatoes, chopped

1 tbsp fresh parsley, chopped to serve

Sea salt and freshly ground black pepper
Instructions
1
Season the chicken pieces with salt and freshly ground black pepper and put them into a bowl. Add the bay leaves and rosemary sprigs and the crushed clove of garlic and cover with the wine. Leave to marinate for at least an hour, but preferably overnight in the fridge.
2
Preheat an oven to 180ºC. Drain the chicken, reserving the marinade, and pat dry with kitchen paper. Dust the chicken pieces with flour and shake off any excess. Heat an cast iron Dutch oven, add the olive oil, fry the chicken pieces until browned lightly all over and put to one side. Take care not to burn the flour.
3
Place the pan back on the heat and add the sliced garlic. Fry gently until golden brown, then add the stock, anchovies, olives, tomatoes, mushrooms and the chicken pieces with the reserved marinade. Bring to a simmer, cover and place in the oven for 1.5 hours.
4
Adjust seasoning. Remove the bay leaves and rosemary stems. Sprinkle with the parsley and serve in the centre of the table with bread and wine.