In his treatise on British cookery, New British Classics, chef Gary Rhodes writes:
"It doesn't take much to work out where these were born. They are a Scottish specialty, and have become very much a part of English eating habits."
I am not sure where Rhodes got this idea from, but almost every other food historian disagrees. There are tales of Indian and Algerians importing the idea to the UK in the time of the Raj. The idea is that spicy ingredients were swapped out for plainer minced pork, and became the Scotch egg, but this is confused by some quite clear pieces of British food history.
British department store Fortnum & Mason makes the clearest and boldest claim to Scotch egg invention. Their story is that they first made them in 1851 as a snack for posh people on the move. They were named for the Scots Guards who were known as 'Scotch eggs' by the people who lived near their London barracks. Dr Andrea Turner, the store's archivist, offers the additional possibility that the name comes from 'scotched eggs,' where 'scotched' means to mess about with something in an unspecified way. Food writer and critic Tom Parker-Bowles has noted that many other dishes that include anchovies (a popular component of Scotch egg forcemeat) also carry the name 'Scotch.'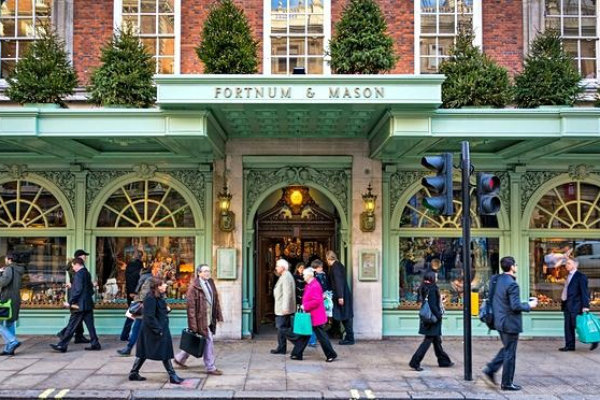 Whitby in Yorkshire, while also trying to steal Dracula from Aberdeenshire's Cruden Bay, has its own claim to Scotch egg invention. In this version of events, William J Scott & Sons were making 'scotties' at some point in the 19th Century. These were boiled eggs wrapped in seafood and breaded. Eventually, meat was used because fish was a bit of a sod to transport and store.
However, all this is complicated by a recipe that appears in the 1808 edition of Maria Rundell's A New System of Domestic Cookery. The book is available on Google Books and it includes this recipe on p207:

This version, while carrying the name 'Scotch egg' does not have the breadcrumb coating and is served with gravy. It is possible that Fortnum & Mason used the Rundell recipe as a basis for their breaded version, which is a lot easier to pack in a picnic and eat as a snack. The name, however, was clearly in use before F&M stocked their shelves with the product.
Having read around various articles on the history of Scotch eggs The Nosey chef prefers the idea that Rundell wrote them down and named them for the 'scotching' of her forcemeat. F&M breaded them and carried the name over.
Regardless of origin, resurgence of interest in traditional British recipes has created a problem for anyone wanting to make a Scotch egg. Traditionally, the eggs were fully cooked, as evidenced by the wording of Rundell's recipe above. These days, gastropubs, food TV, and lusciously shot recipe books are full of Scotch eggs with a 'salad egg' or runny centre. This turns a simple snack (which may have been a means of using up leftovers) into a technical nightmare.
The key to these modern Scotch eggs is timing. There are three things that effect the doneness of the egg. These are:
How long the eggs are boiled for. You need to undercook the eggs, but not so much that they fall apart when you peel them.
How long the eggs are fried for and at what temperature. You need to cook the sausage meat without overcooking the egg and without burning the crust. For a picnic egg, you want a 'ramen egg'-like consistency of a barely set yolk because the product would be eaten with the hands. For a warm starter you might want to cook a little less so that the yolk properly runs and can be eaten with cutlery.
Final cooling. The eggs continue to cook for a while, and the yolk stiffens as it cools. The affects the end result and its Instagrammability.
Everybody's cooking techniques and equipment are different. In my kitchen Scotch eggs are delivered with a 4.5-minute egg fried off at 170˚C for 8 mins and cooled. A 4.5-minute egg is a bugger to peel, and my only tip is to start from the blunt end. If you start from the other end, the delicate area where the air pocket was becomes fragile and can crack. Lightly cracking the shells and putting the eggs in a bowl of cold water can help release the membranes.
Evenly wrapping the egg in the filling is also a bit awkward with an egg so delicate. We took a tip from Gary Rhodes for that and use clingfilm to help us on our way.
So far as recipes go, you can use different breads for the crumb, but in the end, it all comes down to the sausagemeat. There are so many variations of this, so we have provided a few ideas:
200g sausagemeat, 200g pork mince, 3tbsp chopped herbs (e.g. parsley, sage and thyme, pinch of ground mace, 1tbsp English mustard, seasoning (Felicity Cloake)
300g sausagemeat, 100g crumbled black pudding, 4tbsp grated apple (Gordon Ramsay pictured here) – note that if a pickled egg is used with this recipe and the apple is omitted you end up with something called a 'Manchester egg'
400g haggis (vegetarian haggis gives you a very good vegetarian option)
2 chopped shallots fried in butter, zest of 1 lemon, pinch of ground mace, 1 tbsp chopped sage, 400g pork sausagemeat, seasoning (Gary Rhodes)
300g sausagemeat, 100g minced pheasant and partridge meat, 50g crushed chestnuts, 1tbsp chopped flat leaf parsley, 1tbsp wholegrain mustard, seasoning (Tom Kitchin)
400g sausagemeat, seasoning (Prue Leith)
400g Cumberland sausages, split and scraped out
Fortnum & Mason can be found at 181 Piccadilly, London W1A 1ER, United Kingdom.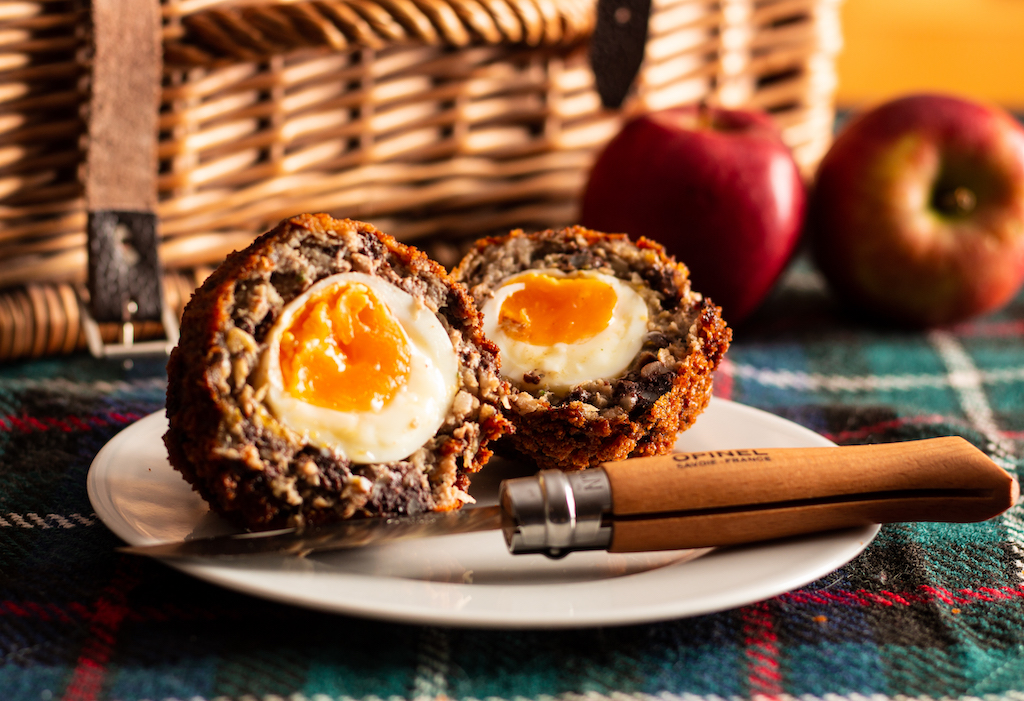 Print Recipe
Ingredients
4 fresh, free-range hen's eggs

400g of chosen filling (see suggestions above)

50g plain flour, seasoned

2 eggs, beaten

100g breadcrumbs (panko is best, but anything will actually do – we routinely use sourdough)
Instructions
1
Bring a deep pan of water to a boil. Prick the eggs at their base with a sewing pin. Lower the eggs into the water and boil for 4.5 mins. Put the pan in the sink and immediately run cold water in and add ice. Allow to cool fully. This faff stops the cooking and prevents a sulphur ring from forming inside the egg.
2
Combine your filling ingredients in a bowl and set up a breading station (one bowl of seasoned flour, 1 bowl of beaten egg and 1 bowl of breadcrumbs).
4
Take a portion of the filling and squash it onto some clingfilm. Place another layer of clingfilm over the top and roll out until about 0.5cm thick. Take the top layer of clingfilm off and put to one side ready for the next egg. Lift the wrap and filling into the palm of your hand and add one of the part-cooked eggs. Draw the filling up and over the eg, seal over and remove any extra thick bits (put them back in the bowl with the rest of the filling). Pull off the wrap, and lightly press the filling smooth with wet hands.
5
Next, roll the meat-covered egg in seasoned flour, then in beaten egg and finally in breadcrumbs making sure each step results in a thorough covering. Press the crumbs lightly into the Scotch egg with your hands. Put the finished ball in a dish, and repeat for all the remaining eggs.
6
Next, fry the Scotch eggs in the fryer for about 8 mins. You will need to do this in batches and keep turning them. I can only fit 2 eggs in my fryer at one time.
7
Once cooked, remove the eggs to a paper towel and allow to cool for a bit.