In a building once housing 'The Roundhouse' restaurant, Dutsons at Hayfield in Derbyshire is a very nice, welcoming restaurant/bar/café/delicatessen. It splits it time between these functions, and opening hours are not the same on each day, so watch out.
The food here is cooked and presented with a lot of care. Highlights are the brunch items like their multi-storey scrambled eggs and salmon, and the eggs Benedict. Mrs Nosey loves their bubble and squeak that comes with a couple of poached eggs perched on top. On this occasion, I went for the Fisherman's lunch, which was a warm prawn and paprika stew on brown bread, with a little tower of toasted mashed potato and smoked haddock. I recommend it.
It is not possible to leave without buying something from the beautifully arranged deli. This lovely little shop is more than skin deep too. It is stuffed with local produce, including eggs from a farm that abuts the village – and I have a thing about eggs.
Most people who cook understand that fresh eggs from a local farm perform better in the pan than supermarket eggs, particularly for poaching. The older an egg is, the more it spreads on cracking, and for a poached egg, this is a disaster as the whole thing just falls apart in the pan to such an extent, it can be hard to find what remains of the egg in the thin slurry of stringy albumin water.
After an egg comes out of a hen's cha-cha, it undergoes a series of short and medium-term changes that include rapid and slow pH swings, alterations in water content of each compartment, and weakening of some of the internal membranes. The changes are so complicated that there are even scientific papers on it.
So now we know why we need fresh eggs, the trick is finding out how fresh an egg in a shop is. Supermarket eggs have a best before date stamped on them that is usually something like 3 months after they were laid. An egg can go 6 months before it actually goes bad. If you have your own chickens or a friend who has them (I used to have a 5-hour supply chain via my friend Mark, now sadly ended), then you can get them three hours after they were laid. That's a big difference in egg chemistry.
The happy medium is to find something between supermarket slurry and having your back garden destroyed by pissed off hens. For this you need to find a code-certified farm with a reliable egg supply. I usually get eggs from Good News, and these are produced in the Goyt Valley as part of a church-affiliated social rehabilitation project. The date stamped on those eggs is 4 weeks from laying. So if your Good News egg is just about to go past its stamped date, then it is still a lot fresher than the stuff in Tesco. Code certification is important as it gives you some confidence that you are not eating your way to a dose of Salmonella.
Dutsons sells eggs from New House Farm, Chapel-en-le-Frith under the brand Farm Girl (code stamp 19105). We bought a box, and I am looking forward to tomorrow's breakfast egg very much. The poached eggs shown in the bubble and squeak picture below are from Farm girl, and just look at how perfect they are.
Dutsons is open from 11am for lunch and Wednesday to Sunday, and Friday and Saturday evening for the bar and restaurant. Sunday Lunch served from 12 noon until 8pm on Sundays. Satnav SK22 2JD. We visited on 11 August 2017 for lunch.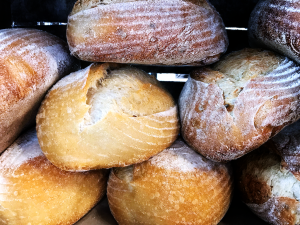 Bread stacked in the deli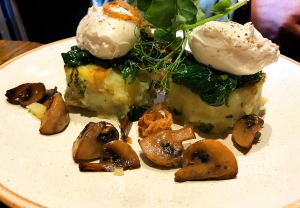 Bubble and squeak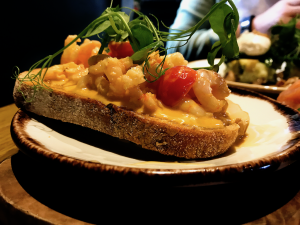 Fisherman's lunch